ACS News
September 26, 2005

Volume 83, Number 39
p. 51
CEPA Group Visits Capitol Hill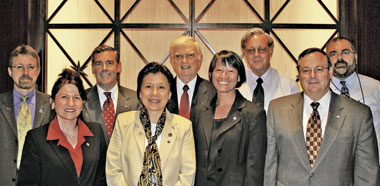 PHOTO BY JANEL KASPER-WOLFE
ACS ADVOCATES Front row, from left: Pleynet, Wu, Greenblatt, and Streusand; back row, from left: Bannochie, Glenn Ruskin (OLGA), Sundeen, Bingham, and Raymond J. Garant (OLGA).
On Aug. 26, just before the acs national meeting in Washington, D.C., the Public Policy Subcommittee of the Committee on Economic & Professional Affairs (CEPA), with support from the ACS Office of Legislative & Government Affairs (OLGA), organized a day on Capitol Hill visiting congressional offices to promote the ACS statements on pension policy and employment nondiscrimination. Subcommittee Chair Christopher J. Bannochie was joined by subcommittee members Barry J. Streusand, John Bingham, Lynne P. Greenblatt, and Sonja Pleynet, as well as CEPA Chair Marinda Li Wu and Corporation Associates Public Policy Subcommittee liaison Joseph E. Sundeen. Three teams were organized by geographic region and were accompanied by an OLGA staff member.
Each team made five congressional office visits and distributed literature on ACS workforce public policies. According to participants, the reception from the congressional offices was excellent, and their level of familiarity with both the pension and the employment nondiscrimination issues was encouraging.
In the pension policy statement, ACS advocates for independent investment advice, shorter vesting periods, portability, and greater diversity of investment options. The Employment Nondiscrimination Act would prevent discrimination in employment based on real or perceived sexual orientation. The ACS policy statement encourages the expansion of protections to include gender expression and gender identity, though these protections are not included in current legislation. The teams encouraged congressional offices with oversight to support the reintroduction of this legislation, which has received bipartisan support in each of the past five Congresses.
Chemical & Engineering News

ISSN 0009-2347
Copyright © 2010 American Chemical Society