Business
March 13, 2006

Volume 84, Number 11
pp. 24-26
Back to Business
Custom chemical manufacturers showed renewed faith in their industry at this year's Informex
Lisa M. Jarvis
Cautious optimism for healthier times had been the mantra repeated over and over again at gatherings of the custom chemical manufacturing industry. Finally, after several long and challenging years, the spell appears to have worked its magic.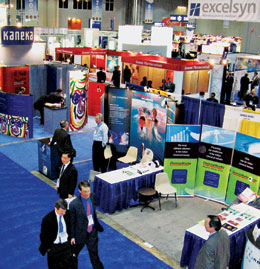 Photo By Rick Mullin
OPTIMISTICALLY CAUTIOUS Informex attendees were more upbeat than in recent years.
Companies attending the recent Informex custom chemicals exhibition in Orlando, Fla., reported renewed investment in their businesses, albeit in more measured terms than in the earlier heyday of pricey acquisitions and major capacity expansions. At the same time, the industry is adjusting to the reality of fierce competition from Asia, and several companies laid out their strategies for India.
Higher spirits at Informex came despite a slowdown at the custom manufacturing industry's primary customer base, the pharmaceutical industry. Though pharma companies have yet to make real strides to improve productivity-new drug approvals dropped to a 10-year low in 2005-many of them have started to cut back internal capacity and appear to be again recognizing the value in outsourcing.
With custom manufacturers also paring back manufacturing in recent years, "capacity is getting tight," said Ralf Pfirmann, global director of Clariant's pharmaceutical fine chemicals business. Though Pfirmann cautioned that "the really healthy portfolio will come several years down the road," he noted that customers can no longer expect short lead times for projects.
Companies are adjusting to the new world order in the custom chemical manufacturing industry.
As a result, custom manufacturers are finally in a position to put money back into their businesses. For its part, Clariant continues to make modest investments across its production network to support existing and future projects. Having recently completed a $5 million upgrade to its Springfield, Mo., unit, the company announced that it will put another $8 million into the site to prepare for the production of an antiviral intermediate. The expansion is scheduled for completion in June, and production of the intermediate should begin by the second half of the year.
At Informex, Italian custom synthesis company FIS unveiled both small- and large-scale manufacturing expansions, which add to the $120 million the company has invested over the past 10 years in its Montecchio, Italy, facility.
In 2005, FIS opened three current Good Manufacturing Practices (cGMP) kilo labs at the site to widen the range of services available to its customers. Kilo labs installed last April for active pharmaceutical ingredients (APIs) and steroids are currently in use, while a cytotoxics kilo lab is scheduled to be operational by the end of the third quarter.
The cytotoxics lab complements an existing commercial-scale production suite at Montecchio, installed in 2003 for a specific customer project. The addition of smaller scale production capabilities will help feed more cytotoxics into the company's pipeline, said Stephen N. DiSalvo, U.S. area manager for FIS's custom manufacturing division.
In a similar linkup, a commercial-scale steroid production unit is also being added at Montecchio to support a project coming out of the new kilo lab.
The company is also installing a cGMP production unit at its Termoli, Italy, facility, which previously had been dedicated to non-cGMP manufacture of intermediates. The new unit is expected to be completed by the end of the year.
Similarly, North American fine chemicals manufacturers announced the opening of new capacity for pharmaceutical chemical production.
Ferro Pfanstiehl Laboratories has commissioned a new Class IV containment kilo lab in Waukegan, Ill., for low-volume production of high-potency APIs. John A. Minatelli, senior director for commercial development, said Pfanstiehl's existing facility primarily serves pharmaceutical companies with drugs in Phase II or III of clinical development. The $4.3 million addition, he said, offers production quantities up to 5 kg for customers with preclinical or Phase I compounds.
Alphora Research, a specialist in API technology development services, also recently opened a kilo lab at its Mississauga, Ontario, site. Alphora was launched in late 2003 by Jan Oudenes, an entrepreneur who earlier