Cover Story
April 3, 2006

Volume 84, Number 14
HISTORICAL INSTRUMENTS
Shimadzu Exhibits 50-Year-Old Gas Chromatograph At Pittcon
Today, people around the world face the threat of infectious diseases such as AIDS and avian flu. Because preventing these diseases is far preferable to treating an epidemic, the development of vaccines is desirable. Historically, vaccines have been complex mixtures that were difficult to characterize and often not well-defined. Now, scientists have tools to better define such complicated mixtures. Moreover, subunit vaccines consisting of only a few components that are easier to characterize are becoming more popular. In a symposium at Pittcon, researchers discussed efforts to develop vaccines for a number of diseases, including, in many cases, the associated analytical challenges.
Shimadzu Scientific Instruments marked the 50th anniversary of Japan's first gas chromatograph, the GC-1A, by displaying the instrument behind plexiglas in the company's booth on the Pittcon exposition floor. It is normally kept at Shimadzu???s world headquarters in Kyoto.
The GC-1A "revolutionized the chemical analysis industry" in Japan, according to Shimadzu. Built for petrochemical industry use, it allowed faster analysis of samples than was previously possible, ???enabling plants to adjust their processes for more efficient production. In Japan, which was recovering from World War II at the time, the GC-1A spurred economic growth for Shimadzu,??? the company said, and helped make it a leading Japanese company in petrochemical analysis.
In 1956, the instrument sold for $7,100. Today's value: priceless. But aside from its historical value, the instrument would probably sell for about $142,000 in today's market, the company says.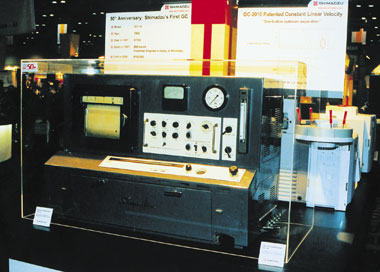 PHOTO BY STU BORMAN
COVER STORY - PITTCON 2006

Attendance may be slipping, but enthusiasm for new and innovative analytical instrumentation has not waned
Complicated mixtures that make up therapeutics vaccines provide diverse analytical challenges
High-resolution maps of molecular species distributions are poised to benefit biology, medicine
New tools and analytical methods aid chemists in forensic investigations
Experiments in microfluidic devices suggest surprising roles for red blood cells
Coalition advocates for nontraditional grant review mechanism to foster deep innovation
Chinese instrument industry lags behind the world's but has tremendous room for growth
Instrumentation and More
Chemical & Engineering News

ISSN 0009-2347
Copyright © 2010 American Chemical Society