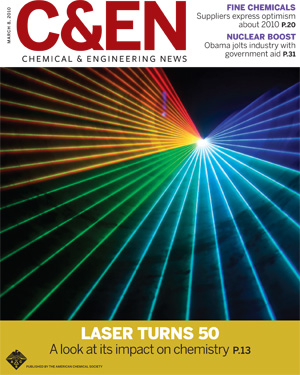 March 8, 2010 Cover, Vol. 88, Issue 10
C&EN celebrates a half-century of a device that shaped modern chemistry. (pp. 13-17)
COVER: iStock
Five decades of laser technology shine light on chemistry fundamentals.
Copyright © 2010 American Chemical Society
Services & Tools
ACS Resources
ACS Careers
ACS is the leading employment source for recruiting scientific professionals. ACS Careers and C&EN Classifieds provide employers direct access to scientific talent both in print and online. Jobseekers | Employers
Join more than 161,000 professionals in the chemical sciences world-wide, as a member of the American Chemical Society.
» Join Now!
ACS
,
Analytical S

CEN

E
,
Business
,
Careers
,
Economy
,
Editor
,
Education
,
Employment
,
Environmental S

CEN

E
,
Letters
,
Government
,
Photo Galleries
,
Policy
,
Movies
,
Multimedia
,
Nanotechnology
,
Newscripts
,
Reel Science
,
Safety Letters
,
Science
,
Stem Cells
,
Stimulus Funds
,
Technology
,
Vaccines
,
Videos
,
What's That Stuff