Chemical & Engineering News
March 24, 1997
---

Copyright © 1997 by the American Chemical Society

---
PETROCHEMICALS
Despite growth in downstream demand, stable profits are eluding producers of the major chemical building blocks
Ann M. Thayer
C&EN Houston
The petrochemicals market is like a rodeo event. If the ride is good, you stay on for several seconds. If it's bad, the slightest upset can throw you into the dirt.
But instead of several seconds, the petrochemical industry ride is several years. The industry rises to prosperous periods of tight supply and demand, where it was in late 1994 and early 1995, and falls into periods of high costs and lower profits, where it landed in 1996. The outlook for 1997 is mixed, and many industry analysts do not expect to see another peak in profits until about 2001 or 2002.
Petrochemical producers won't concede that industry profits have hit the dirt entirely. They recognize that unexpected events too easily can alter profitability in markets for the major olefins - ethylene, propylene, and butadiene - and the aromatics - benzene, toluene, and xylenes. Only a year ago, producers anticipated an upswing for 1996.
"In late 1996, the feedstock situation jumped up and bit the whole industry," says Ronald J. Schuh, senior vice president for petrochemicals at Occidental Chemical. "That was the surprise. Demand for all the major products from the crackers was decent, but feedstocks just became so expensive that margins were squeezed."
Inventories for natural gas liquids, which are the source for about 70% of U.S. olefin production, remained extremely low all year, explains Schuh. When winter hit, there was a "cold shock" that was a blow to propane users in particular. Propane prices reached 70 cents per gal, well above the 45- to 50-cent range considered to be the competitive limit. The price of ethane jumped to about 40 cents per gal.
Crude oil supplies, from which most petrochemical production is derived, were not any more accommodating. During 1996, petroleum producers kept inventories low in anticipation of Iraq's being allowed to sell "humanitarian" crude. However, the Iraqi oil didn't reach the market until January 1997. Benchmark oil prices soared during the latter half of 1996, hitting nearly $28 per barrel in the fourth quarter.
Oil prices have fallen in 1997. Benchmark crude prices now are closer to $22 per bbl. Propane has fallen to less than 40 cents per gal and ethane is closer to 20 cents. Petrochemical producers expect feedstock prices to remain relatively low if there are no sudden weather changes or supply disruptions.
The ethylene market is in a tenuous position, say marketing and business managers. Producers probably have been running at very high operating rates, close to 97 or 98% of capacity, for the past few months. With relatively low feedstock costs and somewhat stable prices, they are taking advantage of the improved margins.
Chevron's Cedar Bayou, Texas, plant produces ethylene and propylene.
Transaction prices for ethylene rose in the fourth quarter of 1996 to just more than 25 cents per lb, up from about 18 cents a year earlier. The run-up was largely sympathetic to feedstock prices. Currently, buyers and sellers are expected to battle over prices, reports Plastic Market Monthly Monomers, published by Houston-based consultants Phillip Townsend Associates.
According to data compiled by the National Petroleum Refiners Association (NPRA), U.S. ethylene production increased about 4.5% in 1996 to 49.1 billion lb. Growth of about 4%, or about 1.3 times gross domestic product (GDP) growth, is expected this year. Although ethylene inventories increased to 1.76 billion lb in the fourth quarter of 1996, up from a low of 1.49 billion lb in the second quarter, producers are not calling them "fat."
During 1996, about 1.2 billion lb of new ethylene capacity was brought on-line, while demand increased more than 2 billion lb, say ethylene business managers. Major additions included 575 million lb at Phillips Petroleum's Sweeny, Texas, plant that will be followed by another 400 million lb in April. Shell Chemical added 300 million lb in Norco, La., Lyondell Petrochemical added 150 million lb in Channelview, Texas, and Quantum Chemical (now Millennium Petrochemicals) added 150 million lb in La Porte, Texas.
"Everything is running pretty much at full bore right now," says J. G. (Jim) Johnson, Chevron Chemical's business manager for olefins. "If there is one unplanned outage, the industry could run into a very tight supply-and-demand balance."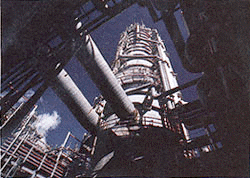 OxyChem's Corpus Christy, Texas, olefins plant.
Outages contributed last year, as in previous years, to tightness in the ethylene market. In 1996, an estimated 700 million to 1 billion lb of production was lost from temporary shutdowns at Shell, Lyondell, Phillips, and Chevron, estimates one ethylene sales manager.
But any tightness in 1996 didn't help producers' profitability. Volumes were very good and demand increased substantially, explains Johnson, but were not enough to offset high feedstock and operating costs. "Margins didn't reflect how good the business should have been."
Demand growth of 5 to 6% from downstream derivatives markets seen in 1996 is not expected to be sustained quite that high in 1997. Ethylene producers express concern about inventory building and capacity additions that may soften the major derivatives markets, which include polyethylene, ethylene dichloride, ethylene oxide, and ethylbenzene.
Significant structural changes have been taking place in the ethylene industry as producers try to buffer these effects. One approach has been to acquire downstream production to integrate operations and reduce exposure to the merchant market. Another approach is to join with other producers to share risks and make the construction of and production from world-scale ethylene crackers more cost-effective.
Lyondell, which has been one of the industry's largest merchant suppliers of ethylene, bought Occidental Chemical's polyethylene business in 1995 and now is planning to expand production. OxyChem has chosen to integrate through the polyvinyl chloride chain with ethylene dichloride, and it also produces ethylene oxide and ethylene glycol. And Exxon Chemical bought out AlliedSignal's share of their Paxon polyethylene joint venture.
Amoco Chemicals acquired Albemarle's x-olefins production as a downstream operation for its ethylene production while it agreed to sell its polystyrene business to Huntsman Corp. in 1996. In ethylene, Amoco now is roughly one-third integrated and two-thirds a merchant seller.
"Amoco still is dedicated to the merchant market," says Warren J. King, Amoco's vice president for global business management in chemical feedstocks. "But our contract position and acquisition of the x-olefins business puts us in a good position to keep our plants fully loaded."
Lyondell will meet its growing need for ethylene through a joint venture with Union Carbide and Quantum. The three companies are building a 2 billion-lb-per-year ethylene cracker at Lyondell's Channelview site that is to start up in 2000.
Union Carbide, one of the largest U.S. net buyers of ethylene, will build an ethylene unit with Nova Corp. in Alberta. The two companies are discussing the possibility of increasing the plant's planned capacity by 800 million lb to 2.8 billion lb. Formosa Plastics is to add 1.8 billion lb of ethylene capacity at Point Comfort, Texas, sometime around 2000.
To assure itself of petrochemical feedstocks, Huntsman joined with Enron Liquid Services in April to build a 1.5 billion-lb-per-year ethylene plant. However, several months after announcing its intention to increase the plant's capacity to 1.75 billion lb, Huntsman let the agreement expire. Huntsman says it intends to go ahead with the plant anyway, with start-up scheduled for 2000 instead of 1999.
"We are in the midst of talking to other potential partners," says Donald J. Stanutz, vice president for olefins and performance chemicals at Huntsman. "And we are talking to a wide range of companies and are not limiting it only to those who bring feedstocks with them," as did Enron.
To better balance its production and consumption, says Johnson, Chevron is expanding its Port Arthur, Texas, ethylene plant by more than 700 million lb this year. Although the company has about 2.7 billion lb of capacity, it has been a net buyer of ethylene, which is used in its polyethylene, x-olefins, and styrene production.
Chevron's expansion will be among more than 4 billion lb of new ethylene capacity that is to be brought onstream in the fourth quarter of 1997. Westlake will start up a 1.3 billion-lb-per-year cracker in Lake Charles, La.; Union Carbide will add 700 million lb in Taft, La.; and Exxon will operate a new 1.5 billion-lb-per-year cracker in Baytown, Texas. In early 1998, Shell, Rexene, Mobil, and Chevron plan to add another 1 billion lb through process improvements and expansions.
Most of these expansions were announced during the last profitability peak when producers could think about investing in new plants to meet growing demand. Healthy 3 to 3.5% growth in ethylene demand will only sustain about one new ethylene cracker per year. Thus, it is expected to take a few years before the 1997 and 1998 additions are absorbed.
Managers and consultants predict that in 1998 and later, operating rates will fall as low as 85 to 87%. As history teaches, higher cost producers may have to rationalize production capacity or even shut down.
In 1997, the maintenance schedule is" very light," according to Tom T. Wisner, a senior consultant with Pace Consultants in Houston, so not much ethylene production will disappear temporarily through shutdowns and ease the overcapacity. However, he suggests, there might be some "slippage" in timing for plant expansions as producers reconsider market conditions.
Capacity utilization rates below about 93% clearly "give customers downward pricing leverage," says Samuel M. Weinberger, ethylene planning manager for Exxon Chemical. "Just about every industry observer and consultant ... believes that the late 1990s and early 2000s will have an ethylene supply-demand environment fundamentally softer than the mid-1990s," he said at a petrochemical industry meeting in late January.
Still, 1997 at least is expected to start out well for ethylene producers, with better margins than seen in 1996. Comments Schuh: "The next two quarters should[ show] some fairly good profitability. The feedstock prices are down, the demand for our products is strong, and the inventories for our products are relatively low. Then it will get shaky, I'm afraid."
Although closely tied to ethylene production, the propylene market looks entirely different. Despite all the new ethylene production capacity, there is some concern about future propylene supply.
In the U.S., the majority of propylene is produced as a coproduct with ethylene. The second major source of propylene is refinery operations where the olefin is separated from other streams. Only a few percent is produced on demand through propane dehydrogenation.
The new ethylene crackers are slated to use light feedstocks - ethane or ethane/ propane - that produce a very small percentage of propylene. But demand for propylene is expected to grow, as it has in the past, at about two times GDP - or between 5 and 6% - for the next few years.
In 1996, U.S. propylene production for nongasoline use decreased 2.3% to 25.1 billion lb, according to NPRA figures. About 54% was coproduct, which increased 1%, and the rest was from refinery sources, which decreased about 7%. "Propylene growth was lower than the historic trend in 1996," says Stanutz. "I think it was somewhat of an aberration - more of a timing issue than anything else.
"It just happened that new polypropylene plants were starting up at the end of 1996 and the beginning of 1997," he explains. "If it had been six months earlier, then they would have chewed up a lot of propylene. We should return more to the historic [growth] trend in 1997 and 1998."
Right now, producers say the propylene market is tight, as indicated by prices for spot purchases of polymer-grade propylene being higher than contract prices. Overall, propylene inventories fell more than 480 million lb during the first three quarters of 1996, but rose slightly to end the year at 1.19 billion lb, according to NPRA, or about a 15-day supply.
As of early March, prices for chemical-grade propylene are expected to increase about -1/2 cent for February and stay flat in March, according to the Phillip Townsend Associates report. The biggest buyers of polymer-grade propylene have yet to accept a price increase and are negotiating a lesser increase for February and a flat price for March. Refinery-grade prices continue to rise.
Demand for propylene is driven by its major derivatives - polypropylene, acrylonitrile, and propylene oxide - which themselves have been undergoing expansions. Polypropylene, which accounts for more than 50% of demand, is expected to continue to grow at more than 5% per year through 2000.
To meet the demand, some propylene producers are adding splitters to increase output from refinery streams. In the second half of 1996, Diamond Shamrock and Fina added a 720 million-lb-per-year unit at Mont Belvieu, Texas, and Sun Co. added 250 million lb at Marcus Hook, Pa. This year, Enterprise and Montell are to start up a 900 million-lb-per-year unit at Mont Belvieu and Exxon will add 570 million lb in Baytown.
Producers are integrated downstream into derivatives to different degrees. Exxon - the largest producer, with an estimated 3.8 billion lb of capacity - uses about one-third for polymers. In contrast, Lyondell - the second largest producer - consumes very little for its own polymer use, as is true for Shell, which uses some in chemicals production.
Chevron has capacity to produce 1.7 billion lb of polymer-grade propylene, which is all merchant marketed. It also produces some refinery grade, which it uses to produce cumene. The company will increase propylene capacity by about 100 million lb in Cedar Bayou when it expands its ethylene cracker during a maintenance shutdown in 1998.
Industry consultants suggest that secure supplies of propylene - either through integration, joint ventures, or supply agreements - will become increasingly important in positioning derivatives projects. Chevron's Johnson calls this developing trend" regionalization," in which propylene and derivatives production are being put in close proximity.
"A lot of the Texas barrels of refinery-grade propylene are already coming out and going into chemicals," he says. "The next area that probably will develop is Louisiana because it is a pocket that has some [supply] ... and there is a lot of demand in the Southeast where [fibers] and textile manufacturing takes place."
Polypropylene producer Epsilon recently announced a project in Garyville, La., with Marathon Oil that will upgrade propylene production from Marathon's refinery nearby. Epsilon also is working with Sun to get polymer-grade material for its polypropylene units on the East Coast. And Arco will put a polypropylene plant in California to take advantage of feedstock from its refinery there.
With coproduct amounts increasing little, the proportion of propylene pulled from refinery streams is expected to increase, says Pace's Wisner. "There's a big pool of propylene to draw from if the price gets right," he says. "Any potential shortfall could be corrected with refinery-grade material." In the U.S., prices have not reached a point where, on average, they support the economics of building propane dehydrogenation plants.
The justification for extracting propylene also depends on its relative value, which fluctuates seasonally, for keeping it as a gasoline alkylate. "It will take a higher propylene price compared to ethylene, than has historically occurred, to continue to bring out the swing supply characteristics of propylene," says Stanutz. "As the price goes up, the industry finds creative ways to generate more propylene to meet demand."
In 1996, Huntsman became one of the largest U.S. producers of butadiene, also largely a coproduct of ethylene production, when it expanded its plant in Port Neches, Texas. The company now has annual production capacity of about 800 million lb. Houston-based Texas Petrochemicals and Shell Chemical have similar nameplate capacities. Other significant U.S. producers include Exxon, Lyondell, and OxyChem.
Butadiene is used primarily to produce synthetic rubber, latex, and nylon. According to NPRA, 3.85 billion lb of butadiene was produced in 1996, a 4.4% increase over 1995. In 1997, butadiene prices have been falling because of plentiful supply.
"The market is somewhat well balanced," says Huntsman's Stanutz. "We don't see multiples above GDP growth for butadiene," as are seen for the other olefins. Stanutz characterizes butadiene as a" very solid, consistent product," feeding a mature elastomer market and slightly faster growing markets for specialty synthetic rubbers.
Whereas olefin markets may have a few more quarters of profitability, the markets for aromatics already have it tough. Overcapacity, expansions in derivatives production, and feedstock costs have hit the major aromatics. Like the olefins, aromatics are influenced by the polymer markets - specifically benzene, because it's used to make styrene and p-xylene for polyester.
Unlike the olefins, the aromatics move more freely on the world market such that, internationally, supply, demand, and pricing shift simultaneously. Along with tremendous growth in demand for derivatives and in their production overseas, production of aromatics is being added to meet regional needs. The results will be major shifts in the export and import balance and overcapacity worldwide.
"I think we are hoping that the trough has been hit," says one petrochemical industry executive. "Short-term looseness in the aromatics derivatives markets last year essentially softened the prices for their chemical value, and so prices dropped to a low level."
BTX - benzene, toluene, xylene - production for chemical use depends on the relative value for blending the aromatics in the gasoline pool. Like propylene, most benzene and toluene are extracted from refinery streams or from by-products of ethylene production. Benzene produced on purpose by other means is decreasing, while production of the largest volume xylene, p-xylene, is increasing.
"I think, fundamentally, the growth in aromatics derivatives is pretty healthy and that the trend lines will return such that people in the BTX business can get the return required to bring the material out to serve those markets," says the petrochemical executive. However, producers are uncertain exactly how long it will take for the market to return.
Demand for benzene throughout 1996 was up about 4%, according to William P. Barry, group vice president with Houston-based consultants DeWitt & Co., with derivatives production running at record rates. But prices were low, driven down by excess capacity, and margins were hit by high feedstock costs. Operating rates have fallen into the mid-70% range.
U.S. production of benzene, the largest volume aromatic in the BTX group, dropped 2.4% in 1996 to 15.6 billion lb, according to NPRA. Prices have been on a downward trend since 1990, when they were more than $1.50 per gal (about 20 cents per lb). Last year, prices hit a low of about 75 cents per gal, then rebounded in January in sympathy to higher crude oil prices.
According to the most recent Phillip Townsend Associates monomers report, benzene prices continue to fall and are now about $1.00 to $1.05 per gal. Prices are not expected to do much better in the longer term. Still, domestic demand is expected to grow about 3.5%, according to DeWitt, but production will not increase much because of decreased exports.
The benzene market, in which styrene accounts for about 55 to 60% of production, has "not been fun," says Mohamed Defrawi, strategy manager for aromatics at Shell Chemical. "Over the years, much of the styrene or its derivatives have been exported," he explains." Now with all of these [derivatives] plants being built in the Far East, some of them starting up this year, exports will more than likely diminish and net demand for styrene will probably decline for a while."
A consequence of the poor market may be that not all companies will be positioned to wait it out. Chevron is one of the largest U.S. benzene producers and uses its Aromax process to produce benzene on purpose for its own ethylbenzene and cumene production. On purpose production "makes sense when you have a feedstock advantage, captive use, and are the lowest cost producer and consume more than you produce," says Mike Zeglin, BTX business manager at Chevron.
Other major benzene producers include Exxon, Shell, Dow Chemical, and Amoco. Like Chevron, Dow also is affected less by the vagaries of the benzene market because it consumes its own production and is a net buyer. Exxon, Lyondell, Mobil, and OxyChem are entirely merchant marketers, whereas others such as Amoco and Shell market significant amounts of their production.
The biggest change in the benzene market has come from the introduction of toluene disproportionation (TDP), a process that converts toluene into benzene and mixed xylenes. Mobil's selective TDP process, which reportedly yields about 85% p-xylene in the xylene mix, has been licensed to other producers.
The TDP process "has brought a lot of benzene to market and to that end I think the benzene market has been depressed over the last couple of years and may very well remain depressed over the next one or two years," says Schuh. For benzene producers, the problem is that use of the TDP process is driven by demand for p-xylene.
Mobil now is introducing a more selective toluene to p-xylene process in its own plants. Last year, the company used the process to expand a plant to a capacity of about 350 million lb of p-xylene in Chalmette, La. Another new plant in Beaumont, Texas, which will produce about 550 million lb of p-xylene, suffered a minor explosion on initial start up, but will start up in the second quarter. In the near future, production of benzene by the TDP process will continue to increase while that produced by other means falls.
Traditionally, toluene hydrodealkylation (HDA), in which toluene is reacted with hydrogen to produce benzene and methane, has been used as "swing" capacity that could be stopped or started depending on demand. However, producers are finding it difficult to reach a balance with all the extra production from TDP. Of all producers, integrated companies with captive needs are more likely to still run HDA units.
OxyChem has had its HDA unit in Chocolate Bayou, Texas, shut down since a maintenance shutdown that took place a year ago in September. "It just hasn't made economic sense to run that HDA unit," comments Schuh. The HDA unit accounts for about 25%, or about 330 million lb, of OxyChem's annual production capacity. "In a couple of years, most of those TDP units will get absorbed and benzene will come back to be a reasonable market."
Similarly, Dow uses its HDA unit as swing capacity. Its unit is "running at the moment," says Keith Howson, North American business manager for aromatics at Dow. "We had it shut down in 1996 from about February to July, and then we started it up in July and have run it since. If the economics go away from us, then we'll close it down."
The difference between toluene and benzene prices and their relative values in gasoline are determining factors whether to run HDA units. In the toluene market," blending in gasoline has taken a lesser role," says Teresa Acosta, group vice president at DeWitt. There is "a lot of [methyl tert-butyl ether] at cheaper prices and it is a more environmentally accepted product," she explains. "It's [become] more of a chemical market now" for toluene.
"Toluene is probably the tightest of the three aromatics," comments Defrawi. While TDP units have led to some increase in demand for toluene, many operators are consuming toluene extracted from their own refineries rather than buying it. And more toluene is available that would have gone into HDA units. Longer term, some producers take the opposite view that toluene will move toward its "blend" value rather than sell at a premium for chemical use.
"If p-xylene really takes off and there is a lot of toluene going into these plants to make it, [the market for toluene] could be a little tight," says Acosta. "It's going to be a function of price. If it gets very expensive, producers will find some more ways of extracting more toluene. There is a lot of toluene in reformate, so it's there for the market if the price is attractive."
"There is no question that there is more[ toluene available] in the reformate pool," comments Defrawi. "The question is: 'Who has the extraction capacity?' Most likely, the economics will not support the decisions to build new extraction plants."
However, although demand growth is strong at 7%, profitability in the p-xylene market fell dramatically in 1996. According to Tarrytown, N.Y.-based consultants Chem Systems, p-xylene producers today are barely covering cash costs, whereas in 1995 it was one of the most profitable products. Overcapacity down the entire polyester chain - from p-xylene to terephthalic acid to polyethylene terephthalate - is hurting p-xylene producers.
Global capacity will nearly double by 2000, with the bulk going into the Pacific Rim, reports Chem Systems. Operating rates are expected to fall from a level of about 90% last year to less than 70% in 1998. Tough times are expected to persist for several years until demand catches up with supply.
The situation has become so bad that producers insinuate that Exxon's shutdown that it attributed to "technical problems" from February through December 1996 - as well as a reported shutdown by Amoco - was really a reaction to the poor market. With about 43% of U.S. capacity, Amoco is expanding capacity in Decatur, Ala., by 770 million lb in late 1998. Chevron also will double capacity, to about 1 billion lb, in Pascagoula, Miss., in 1998. Phillips plans a 165 million-lb-per-year expansion in Puerto Rico in 1997.
Amoco's Texas City, Texas, complex houses its p-xylene plant.
Whereas Chevron is entirely a merchant marketer of p-xylene, Amoco is fully integrated, with downstream production into terephthalic acid. "We still feel the polyester chain is going to display strong growth," says King. "We are dedicated to maintaining our strong position in the market. Our forward-integrated position is a fundamental part of our strategy."
Industry consultants, including Acosta at DeWitt, say they would not be surprised if some of the planned p-xylene projects around the world are reassessed. For example, last year Amoco halted plans for a p-xylene joint venture with France's Total in Europe.
"There are certainly reasons to look at these projects and reassess them," says Acosta. Start-ups still are scheduled in the U.S., but companies abroad" may take another look at, if not canceling altogether, postponing or staging these projects a little bit better," she says.
Longer term growth in p-xylene is expected to be good for those who can hang in there. As for the other petrochemicals, the most viable companies probably will be integrated producers with lower cost positions who have the balance and stability to stay on during the bumpy rides.