This year could have been terrible. Japan's economy slumped following the increase of a sales tax. Several Asian economies crashed. And a series of new facilities came on-line. Yet, profits of Asian chemical companies did not collapse.
"We've been lucky. It's bad, but it could have been ugly," says Nicholas D. P. Smith, regional oil and chemical analyst for Jardine Fleming in Tokyo. He adds: "Well, of course, prices have been plummeting; margins have been plummeting. But [the industry] has held up quite nicely recently." Chemical companies in Japan and South Korea have posted stronger results in the first half of their fiscal year than in the same period last year. Hardship in the region's chemical industry was felt, but mostly among Thai and Chinese chemical companies.
Over the past year, profits of Japanese chemical companies improved essentially because producers of petrochemicals were able to take advantage of an increase in the price of naphtha to raise both prices and margins. In South Korea, fairly strong demand from China coupled with a change in accounting rules made it look as if companies were improving their performance. Another factor that helped Asia in autumn was an explosion in the olefins unit of a Shell plant in Deer Park, Texas, on June 22, which tightened supply temporarily.
On the basis of partial results for the year, Japan's chemical production went up, and so did chemical exports. It's not necessarily a good sign. "Volume is great," says Smith. "There is nothing wrong with volume" because chemical companies "have been hiking up their export ratios," he says. "Take a look at export ratios over 15 years, correlated with the yen-per-dollar rate; it makes interesting reading. The export ratio has gone from 9 to 10% to over 20%, and the yen has gone from 260 down to 120. It's ridiculous." Considering that Japanese chemical firms just barely turn a profit on what they sell in Japan, it's unlikely that exporting would be profitable, says Smith.
Chemical companies selling in Asia have been helped by fairly strong demand from China in the past few months. But demand from southeast Asia is weakening. "In the past couple of months, the demand for polyolefins remained so-so in Southeast Asia," says Ryota Hamamoto, general manager of corporate planning at Sumitomo Chemical in Tokyo and president of the firm's sizable Singapore operation, Sumitomo Chemical Asia. He adds: "It [demand] was sustained partly by the seasonal buying by China [of plastics] for agricultural film processing." Every autumn, Hamamoto explains, China buys some plastics for agricultural purposes.
Most Asian currencies weaker against the dollar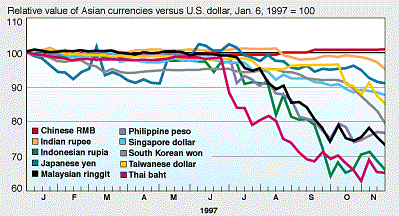 Sources: Far Eastern Economics Review, Asian Wall Street Journal (Nov. 24 data)
Through its imports, China has supported the region's chemical market. Taipei-based analyst Sam S. Webster, with securities firm CS First Boston, reports that the price of a "basket" of nine petrochemical products and plastics that he tracks has declined by 9.2% in the 12 months from November 1996 to November 1997. A sustained drop in Chinese demand at a time when new capacity is coming on-line and when Asia-with the exception of China, Taiwan, Hong Kong, and Singapore so far-is entering a serious slowdown could be catastrophic for the region's chemical market. Indeed, a Hyundai Petrochemical spokesman opines that at present, Chinese demand is more important to Hyundai than anything else occurring domestically in South Korea.
---
---
There is a good chance that China will soon buy less, says Bill Hunsaker, a regional chemical industry analyst for ING Barings in Seoul. He estimates that Chinese imports of chemicals in the past few months have exceeded the needs of the country and that inventories are building. Additionally, because China has decided not to devalue its currency, its exports of finished goods will be uncompetitive compared with those of other Asian countries, unless it actually lowers prices. And to do that, it would have to deflate its economy by constraining domestic demand, Hunsaker says. This would mean less demand for chemicals.
South Korea: Strong petrochemical exports
a C&EN estimates. Source: Korean Petrochemical Industry Association
Rosy projections of Asian demand growth and a desire to build local presence in the blossoming market have in past years induced the world's chemical firms to invest in the region.
Coming on-line soon are two major additions in capacity to the petrochemical industry-Hyundai Petrochemical is in the process of starting up 500,000 metric tons of ethylene capacity in Daesan, South Korea, and Formosa Plastics will bring on-line another 450,000-metric-ton-per-year ethylene cracker and downstream facilities in Taiwan. The latter is the smaller of two crackers the company is building at the Mailiao complex on the island's west coast. The other cracker, twice the size, is to come on-line in 1999.
---
---
In the near future, other than physical additions to capacity, regional chemical supply will be augmented by panic selling by Thai chemical companies wishing to maximize U.S. dollar revenues to service crushing foreign debt loads. As the cash gets rare, the more hard-pressed Thai companies will attempt to operate at full capacity and sell at low prices, in the process inducing the more formidable South Koreans to do likewise. And although heavy debt is something that Korean companies will also have to deal with, chemical firms everywhere in the region will feel their cash flow tightening as the worsening regional economic picture means that their customers cannot pay their bills. As everyone scurries to generate cash, a price war is likely.
But whereas Asia's markets will be abundantly supplied in chemicals, demand in Asia won't be all that strong in the near future.
The painful economic discipline imposed by the International Monetary Fund (IMF) rescue packages is beginning to bite. "Since the middle of November, we recognize in the Asian market that the local demand for chemicals in general slackened [noticeably]," says Sumitomo Chemical's Hamamoto. "Following a time lag [since implementation of the packages], the economies of southeast Asia began falling into recession caused by currency tumbles and stock market crashes together with austere economic policies being imposed by the IMF. The consumption in the local markets seems to [have] contracted, and the prices softened," he adds.
Economists have been steadily lowering growth forecasts for Asian countries' gross domestic product (GDP) for the past few months. Consumption of chemicals is directly linked to the size of a country's GDP. A recent forecast by Salomon Brothers was that Thailand's GDP would decline nearly 2% next year. Overall, economists at securities houses and investment banks have so far knocked off between 3 and 5% of their forecast GDP growth rates for Asian countries in 1998 since the Asian economic crisis began.
---
---
But GDP forecasts are measured in national currencies. If the GDP of Thailand, for example, were translated into U.S. dollars, the result would be a 40% drop in GDP forecast for 1998 because the Thai baht has lost about 40% of its value against the dollar in the past year. This lower exchange rate for the Thai baht could negatively affect consumption of chemicals, which tend to be internationally priced commodities traded in U.S. dollars.
One solution to the oversupply of chemicals in Asia would be for the region to export to other parts of the world either chemicals or finished products made from industrial chemicals. But in practice, it's implausible that Asia's chemical industry could successfully compete against the chemical industries of Europe or the U.S. in their Western home markets. As for the export of finished goods made from industrial chemicals (such as cars, toys, and clothing), any flooding of the U.S. or European markets is likely to meet with political resistance, a source reasons. And Sumitomo Chemical's Hamamoto points out that in recent years, Asia has mostly been trading within itself. About 65% of Asia's exports remain within the region, he estimates.
One change that could help the chemical industry of not only Japan, but all of Asia, would be an improvement in the Japanese economy. For this to happen, Japan needs to address the bad debts in its financial sector, says Taduhisa Sasano, director of the Chemical Business Research Division for Asia at SRI Consulting in Tokyo. "That is the strongest body blow to the Japanese economy, I believe," he says. Not only does the mountain of bad debts choke the Japanese economy, it also makes it difficult for Japanese companies to borrow from Japanese banks to finance overseas expansion, Sasano says.
In the short term, the overall outlook for Japan is bad. "The economy is absolutely lousy," says Jardine Fleming's Smith. Conceding that Japanese car production is up sharply compared with the previous year, Smith predicts that this upswing won't last and that car output will fall because of growing inventories and the poor economic climate. As for another economic indicator-housing starts-Smith predicts that whereas there has been a noticeable drop this year compared with last year, it will be a free-fall from now on. Recently released official figures indeed point in that direction. Smith says the Japanese economy began to slow down shortly after an increase in the consumption tax from 3 to 5% in April.
Japan's auto output increases...
...but housing starts plummet
a C&EN estimates. Source: Japan Ministry of International Trade & Industry
It's a similar story in Singapore, where Petrochemical Corp. of Singapore started up its second-phase expansion this summer. And Exxon Chemical is lining up downstream partners for the 800,000-metric-ton-per-year cracker it announced in March.
The potential bankruptcy of some chemical companies in Thailand and South Korea is unlikely to result in any shutdown of facilities. Rather, more will be bought by foreign chemical companies eager to build up a presence in Asia. One investment banker tells C&EN of a large Western chemical company that was interested this fall in the purchase of Thai assets at a good price.
International chemical companies continue to be bullish on Asia. Several have already increased their equity shares in joint-ventures with local partners. In November, Germany's Bayer stressed to the Asian media that its investment program for the region remains unaffected by the economic crisis. "Bayer has no intention to slow down the implementation of its marketing and investment plans in Asia," board member Dieter Becher said in Hong Kong. The firm plans to invest about $2.25 billion at current exchange rates in Asia over the next 10 years, to either build new plants or acquire companies. Becher stated that he expects Taiwan authorities to approve construction of a 100,000-metric-ton-per-year toluene diisocyanate facility in Taichung, so that it could come on-line within three years. Bayer says it expects the current crisis to be a transitory hiccup, and in the long term, demand growth in the region will continue to outpace that of the more mature markets of the U.S. and Europe.
Another European company, Degussa, went out of its way, like Bayer, to reinstate its commitment to Asia. It stated in late November that it would invest about $560 million in Asia over the next five years.
Long-term projections for Asia have not been revised downward significantly. For instance, in announcing the IMF package for South Korea, IMF Managing Director Michel Camdessus said it would eventually "return the Korean economy to a path of rapid but more sustained growth." On the other hand, the prospects for South Korea will not be good in the short term. The IMF package stated that "monetary policy is being tightened immediately. ... Money market rates have been raised sharply and will be maintained at a high level as needed to stabilize markets." This means less liquidity for all, not a good prospect. In the short term, things do not look good.
Speaking from Japan, where things are far from looking good, Jardine Fleming's Smith sums up the outlook for the Asian chemical industry: "Horrendous year coming up. It will get particularly savage if what is going on in Asia drags down the U.S. economy.