Latest News
September 26, 2005

Volume 83, Number 39
p. 12
HURRICANE WATCH
Bracing For Rita
Gulf Coast firms take precautions even as they still reel from Katrina's impact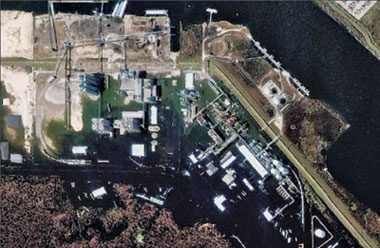 SPACE IMAGING AND GLOBALSECURITY.ORG
SOAKED Satellite image of Air Products' hydrogen facility, in eastern New Orleans, shows flooding after Katrina hit.
As Hurricane Rita bears down on the Gulf Coast region this weekend threatening even more mayhem, chemical producers continued toting up the economic losses from Hurricane Katrina.
Oil and gas production in the Gulf slipped as producers again evacuated workers from drilling rigs and platforms. Oil and chemical industry managers were shutting down some operations as the storm headed toward the Texas coast--among them BP's Texas City chemical and refinery complex and Lyondell Chemical's Chocolate Bayou and Matagorda plants. At C&EN's press time, daily oil and gas production in the Gulf was off 73% and 47%, respectively, according to the government's Minerals Management Service.
Firms whose operations were severely compromised a few weeks ago because of Katrina took steps toward recovery. DuPont said its titanium dioxide plant in DeLisle, Miss., suffered significant floodwater damage to infrastructure, process controls, and electrical equipment. Start-up is slated by year's end, though full capacity won't be restored until spring 2006.
Air Products & Chemicals said its New Orleans hydrogen facility sustained heavy wind and water damage. Much of the water has been pumped out of the plant, and the firm now has road access to the site. Bringing the facility back up by year's end depends on restoration of power, natural gas, and the availability of repair supplies, the firm said.
Even companies that escaped direct damage to their operations are reeling from Katrina's effects. Water treatment firm Nalco, for example, estimates that Katrina will cost it $25 million in lost business and extra costs.
At least three new companies have joined a chorus of firms including DuPont, Dow Chemical, Albemarle, and Eastman Chemical to announce across-the-board price increases. Nalco, Rohm and Haas, and Engelhard say Katrina exacerbated the availability and pricing of energy and raw materials, and so they, too, are implementing broad price increases.
Chemical & Engineering News

ISSN 0009-2347
Copyright © 2010 American Chemical Society
Katrina's Aftermath
Check here for the latest C&EN stories on the hurricane's impact and ways to help.
Articles By Topic