Latest News
March 12, 2007

Volume 85, Number 11
p. 10
Pollution
China Admits Setback
Premier vows country will try harder to meet environmental goals
Chinese Premier Wen Jiabao admitted last week that his country failed in 2006 to meet the environmental emissions and energy efficiency targets that it had set in 2005. But he vowed that China will stick to its medium-term targets for 2010.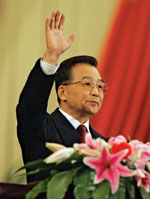 QIU JIN/COLORCHINAPHOTO
Wen addresses China's parliament.
Wen was speaking in Beijing at the opening session of the annual meeting of the National People's Congress, China's parliament. Facing 3,000 parliamentarians and the world media, his address could not have been more public.
In 2006, China reduced its energy consumption per unit of gross national product by 1.2%, falling far short of the 4.0% target, he said. Instead of coming down 2.0%, emissions of sulfur dioxide increased 1.8%, and chemical oxygen demand, a measure of water pollution, grew by 1.2%.
Under its 11th national five-year plan, which ends in 2010, China aims to reduce its emissions of major pollutants by 10% and to raise its economic energy efficiency by 20%. "Meeting these mandatory targets cannot be revised, so we must work resolutely to meet them," Wen told delegates.
Partly to meet environmental goals, China will try to curb its economic growth to 8.0% in 2007, down from the 10.7% it achieved last year. In addition, the premier said the country will close smaller coal-fired power plants as well as substandard facilities producing cement, aluminum, ferrous alloys, coke, and calcium carbide.
China has difficulty enforcing national environmental standards, because the country operates in a decentralized manner that allows municipal and provincial officials to interpret Beijing's directives in their own way.
China's State Environmental Protection Agency reports on its website that its outspoken deputy director, Pan Yue, is urging a change in Chinese laws to correct this situation. Arguing that government officials are involved in the most severe cases of environmental violations, he is calling for new rules that would permit the central government to punish officials who fail to enforce national standards.
Chemical & Engineering News

ISSN 0009-2347
Copyright © 2011 American Chemical Society
Adjust text size:
Articles By Topic