Latest News
April 16, 2007

Volume 85, Number 16
p. 12
Sweetener Wars
Splenda Versus Equal
Manufacturers of sweeteners duke it out in court over "made from sugar" claim
Three little chlorine atoms are causing quite a stir in the artificial sweeteners market. A trial that began in a Philadelphia court last week pits Chicago-based Merisant, maker of Equal and NutraSweet, against McNeil Nutritionals, the marketer of Splenda.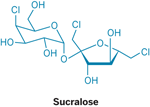 Merisant's suit centers on McNeil's Splenda advertising, which says the product is "made from sugar, so it tastes like sugar." Merisant claims that the wording gives Splenda an unfair competitive edge by misleading consumers into thinking the product is more natural than other artificial sweeteners.
Sucrose is indeed the starting material for Splenda, but the molecule is modified by replacing each of three hydroxyl groups with a chlorine atom. The resulting compound, called sucralose, is then blended with small amounts of maltodextrin and dextrose.
Since its approval as a general-purpose sweetener in 1999, Splenda has eclipsed Equal in the lucrative artificial sweeteners market. In the suit, Merisant implies that demand for Splenda is correlated with consumer perception that it is "natural." The company notes that sales of Splenda were weak in 2001, when McNeil launched an ad campaign saying the sweetener is made from sugar and including the phrase "but it's not sugar."
Further complicating the sweetener wars, Tate & Lyle, the manufacturer of sucralose, has filed an International Trade Commission case against three Chinese manufacturers and 18 importers and distributors alleging they are infringing patents on its sucralose production process. The move follows a federal suit initiated last year against one of the defendants in the current complaint. Tate & Lyle manufactures sucralose in McIntosh, Ala., and in Singapore.
Chemical & Engineering News

ISSN 0009-2347
Copyright © 2011 American Chemical Society
Related Stories
Adjust text size:
Articles By Topic