Latest News
December 31, 2008

Also appeared in print Jan. 12, 2009, p. 6
Commemoration
2011 Will Be International Year Of Chemistry
United Nations will celebrate the achievements of chemistry and its contributions to humankind
THE UNITED NATIONS General Assembly has passed a resolution formally declaring 2011 as the International Year of Chemistry. Ethiopia, which is the host country for the Federation of African Societies of Chemistry, submitted the resolution calling for the year, which will highlight the achievements of chemistry and its contributions to humanity.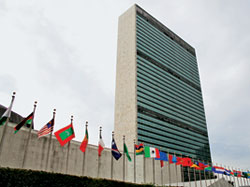 Shutterstock
"The International Year of Chemistry will give a global boost to chemical science in which our life and our future are grounded," says Jung-Il Jin, president of the International Union of Pure & Applied Chemistry (IUPAC) and a professor of chemistry at Korea University, in Seoul, South Korea.
"We hope to increase the public appreciation and understanding of chemistry, increase young people's interest in science, and generate enthusiasm for the creative future of chemistry," he adds.
IUPAC has established a management panel that will work with chemical societies; the UN Educational, Scientific & Cultural Organization (UNESCO); and others to plan and implement activities during the year.
"We are delighted that Ethiopia has provided international leadership to bring this forward, first to the UNESCO executive board and then to the UN General Assembly this fall," says Peter Mahaffy, professor of chemistry at King's University College, in Edmonton, Alberta, and chair of IUPAC's Committee on Chemistry Education.
The UN resolution, he says, was formally sponsored by more than 35 countries and supported by many others. "The American Chemical Society and the National Academy of Sciences both played a very helpful role in winning support in the U.S.," Mahaffy notes.
"This designation by the United Nations is truly exciting," ACS President Thomas H. Lane says. "It is an opportunity for our world to learn more about the transforming powers of chemistry."
Lane says ACS will make its expertise, networks, and National Chemistry Week experience available to help ensure a successful year. "Further," he adds, "we will help provide opportunities for Nobel Laureates, eminent scientists, teachers, outstanding young chemistry students, and chemistry communities around the world to demonstrate how people's lives are improved through chemistry."
Save/Share »
Chemical & Engineering News

ISSN 0009-2347
Copyright © 2009 American Chemical Society
Login
Note
Our log-in process has changed. You need an ACS ID to access member-only content.
Adjust text size:
Articles By Topic