December 11, 2009
Water Treatment
Tata launches low-cost water filter for use in poor countries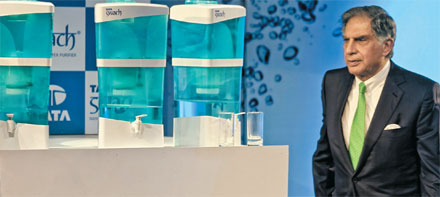 AP
Tata stands next to his firm's new water filter.
Related Stories
Topics Covered
Latest News

October 28, 2011
Forensic Chemistry: A new method could increase the number of explosives detected by airport screeners.
Trade: U.S. companies complain of market dumping by China.
Layoffs follow similar moves by Amgen, AstraZeneca.
Environment: Ban to halt export of hazardous waste to developing world.
Penrose (Parney) Albright will direct DOE national lab.
Toxic Exposure: Mercury isotopes in human hair illuminate dietary and industrial sources.
Cancer Biochemistry: Mass spectrometry follows the metabolism of very long fatty acids in cancer cells.
Last year, the Indian conglomerate Tata launched the Nano, a revolutionary low-cost car aimed at people who previously could afford only small motorcycles and scooters. Earlier this month, the firm unveiled the Swach, an innovative household water filter requiring no electricity and retailing for as little as $21.
"The social cost of water contamination is already enormous and increases every year," said Ratan N. Tata, chairman of Tata Sons, at the launch event. "Today's announcement is about giving millions more people affordable access to safe water."
The Swach will be produced by Tata Chemicals in Haldia, West Bengal, one of India's poorest states. A spokeswoman tells C&EN that although the microbial purifier is not designed to remove heavy metals and agrochemicals from water, it is effective against waterborne viruses and bacteria that cause diseases such as diarrhea, jaundice, typhoid, cholera, polio, and gastroenteritis.
The Tata group of companies says it spent several years developing the Swach. One of the product's key features is a filter cartridge that stops water flow when it needs to be replaced.
The filter at the heart of Tata's Swach is made of rice husk ash impregnated with nanosilver particles. In recent months, concerns have been raised about the leaching of nanosilver particles from clothing during washing (C&EN, Nov. 30, page 25), but the firm says the Swach has been "rigorously tested to meet internationally accepted water purification standards."
Chemical & Engineering News

ISSN 0009-2347
Copyright © 2011 American Chemical Society
Services & Tools
ACS Resources
ACS Careers
ACS is the leading employment source for recruiting scientific professionals. ACS Careers and C&EN Classifieds provide employers direct access to scientific talent both in print and online. Jobseekers | Employers
Join more than 161,000 professionals in the chemical sciences world-wide, as a member of the American Chemical Society.
» Join Now!
ACS
,
Analytical S

CEN

E
,
Business
,
Careers
,
Economy
,
Editor
,
Education
,
Employment
,
Environmental S

CEN

E
,
Letters
,
Government
,
Photo Galleries
,
Policy
,
Movies
,
Multimedia
,
Nanotechnology
,
Newscripts
,
Reel Science
,
Safety Letters
,
Science
,
Stem Cells
,
Stimulus Funds
,
Technology
,
Vaccines
,
Videos
,
What's That Stuff