December 14, 2009
Chemicals In People
Toxic Substances: National biomonitoring report provides assessment of exposure to 212 substances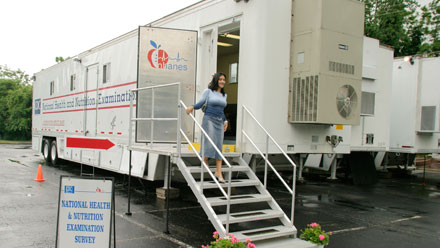 CDC's National Center for Health Statistics
Participants in CDC's National Health and Nutrition Examination Survey provide blood and urine samples at mobile examination centers such as this one.
Topics Covered
Latest News

October 28, 2011
Forensic Chemistry: A new method could increase the number of explosives detected by airport screeners.
Trade: U.S. companies complain of market dumping by China.
Layoffs follow similar moves by Amgen, AstraZeneca.
Environment: Ban to halt export of hazardous waste to developing world.
Penrose (Parney) Albright will direct DOE national lab.
Toxic Exposure: Mercury isotopes in human hair illuminate dietary and industrial sources.
Cancer Biochemistry: Mass spectrometry follows the metabolism of very long fatty acids in cancer cells.
Americans are being widely exposed to polybrominated diphenyl ether (PBDE) flame retardants, perfluorinated chemicals such as those found in nonstick coatings on cookware, the plastics chemical bisphenol A (BPA), and many other chemicals found in everyday consumer products, according to the "Fourth National Report on Human Exposure to Environmental Chemicals." The report, released by the Centers for Disease Control & Prevention on Dec. 10, provides an extensive look at exposure to 212 chemicals, including 75 that have not previously been measured in a representative sample of the U.S. population.
The 75 chemicals new to the list include acrylamide (found in fried, starchy food); arsenic species and metabolites; endocrine disrupters such as BPA and the antimicrobial triclosan; perchlorate (found in rocket fuel); perfluorinated chemicals; PBDE flame retardants; and volatile organic compounds such as benzene, styrene, and the gasoline additive methyl tert-butyl ether.
The data are based on blood and urine samples collected from approximately 2,400 people who participated in CDC's National Health & Nutrition Examination Survey from 2003 to 2004.
The findings prompted Sen. Frank R. Lautenberg (D-N.J.), Chairman of the Senate Environment & Public Works Subcommittee on Superfund, Toxics & Environmental Health, to issue a statement highlighting the need to reform U.S. chemical law. "This study affirms that Americans are exposed to a wide range of industrial chemicals--including some that are known to cause cancer--and provides further evidence that America's broken chemical regulations must be fixed," Lautenberg stated.
Lautenberg is expected to introduce legislation next year to overhaul the Toxic Substances Control Act.
The American Chemistry Council, a trade group that represents the chemical industry, emphasized that the presence of a chemical in a person's blood or urine is not an indicator of health effects. "We now have the ability to measure minute amounts of chemicals," Cal Dooley, ACC President and chief executive officer, said in a statement. ACC stressed that the levels of all of the chemicals measured in the report remain low and that more research is needed to determine whether exposure at those levels is a health concern.
Chemical & Engineering News

ISSN 0009-2347
Copyright © 2011 American Chemical Society
Services & Tools
ACS Resources
ACS Careers
ACS is the leading employment source for recruiting scientific professionals. ACS Careers and C&EN Classifieds provide employers direct access to scientific talent both in print and online. Jobseekers | Employers
Join more than 161,000 professionals in the chemical sciences world-wide, as a member of the American Chemical Society.
» Join Now!
ACS
,
Analytical S

CEN

E
,
Business
,
Careers
,
Economy
,
Editor
,
Education
,
Employment
,
Environmental S

CEN

E
,
Letters
,
Government
,
Photo Galleries
,
Policy
,
Movies
,
Multimedia
,
Nanotechnology
,
Newscripts
,
Reel Science
,
Safety Letters
,
Science
,
Stem Cells
,
Stimulus Funds
,
Technology
,
Vaccines
,
Videos
,
What's That Stuff