ACS News
C&EN Special Issue: 85th Anniversary Of The Priestley Medal - Volume 86, Number 14, April 7, 2008
1935: William Albert Noyes (1857–1941) and 1954: W. Albert Noyes Jr. (1898–1980)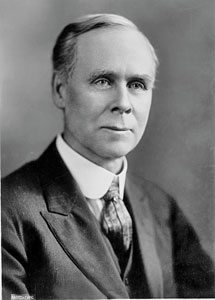 The only father and son pair to receive Priestley Medals came from a family rich in chemists. William Albert Noyes Sr. was the father of four chemists, the most famous of whom, W. Albert Noyes Jr., followed his father through many walks of life.
Born to a family transplanted from Boston to Iowa, Noyes Sr. was raised in a "pioneer" fashion and was mostly self-educated until college. After receiving bachelor's and masters degrees from Grinnell College, in Iowa, he entered Johns Hopkins University in 1881 and worked under the personal supervision of Ira Remsen (1923 Priestley Medalist). He received a Ph.D. in 1882 after only one-and-a-half years of study. When asked, "How did it happen that Noyes got his Ph.D. in such a short time?" Remsen is said to have replied by asking, "Has there been any objection?"
After nearly 20 years of teaching chemistry at the University of Minnesota, the University of Tennessee, and the now Rose-Hulman Institute of Technology in Terre Haute, Ind., Noyes was invited to become the first chief chemist of the Bureau of Standards in Baltimore in 1903. There, he determined the atomic weight of chlorine and did preliminary work on the atomic weight of bromine.
He became director of the chemical laboratory at the University of Illinois in 1907 and oversaw the blossoming of that department. In his 19-year tenure, he helped make it one of the most prestigious chemistry departments in the U.S. In 1939, to honor his work, the chemistry building at Illinois was renamed Noyes Laboratory.
From 1902 to 1917, he was editor of the Journal of the American Chemical Society. In 1914, the journal absorbed the American Chemical Journal, which had been founded by Remsen. At the same time, Noyes began plans for establishing an abstract journal that would cover "the developments in chemistry in all phases and in all lands." In addition, he served as ACS president in 1920.
His colleague Campbell E. Waters reported that "Dr. Noyes spent a great deal of time in 1906 on the preliminaries for starting Chemical Abstracts." He was CA's first editor, serving from 1907–10, and it fell to him to find all the assistants and get them to work. Unlike 1951 Priestley Medalist E. J. Crane, editor of CA from 1915–58 (ck), Waters reports that Noyes wasn't particularly fussy. "He refused to become excited over misprints and could not be persuaded to admit that in the names of French journals e, é, and è are different letters," Waters wrote.
Later, Noyes led in the organization of both the Chemical Monographs (1919–41) and Chemical Reviews (1924–26); he served as the first editor of both of those publications. His son, W. Albert Noyes Jr., followed in his father's footsteps as editor of Chemical Reviews (1939–49) and of the Journal of the American Chemical Society (1950–62). As his father did in 1920, Noyes Jr. served as ACS president in 1947. And as his father did in 1935, Noyes Jr. brought home the Priestley Medal in 1954. But unlike his father, Noyes Jr. also served as editor of the Journal of Physical Chemistry (1952–64).
Born in 1898 in Terre Haute, it was said that Noyes Jr. learned his poise before distinguished audiences by serving as butler when his father entertained foreign guests. He studied chemistry at Grinnell and the University of Illinois before joining the Signal Enlisted Reserve Corps of the U.S. Army in 1917, just 21 credit hours shy of earning his bachelor's degree. He served in France on the front from 1917­­­ to 1919. The same year he left the service, he received his bachelor's degree from Grinnell. He earned his doctorate in 1920 from the Sorbonne, where he studied with Henry Le Chatelier.
After a brief stint at the University of Geneva, Switzerland, Noyes Jr. went to the University of California. He was later on the faculties of the University of Chicago and Brown University before joining the University of Rochester, where he eventually became dean of the College of Arts & Sciences.
Service on a committee of the National Defense Research Committee (NDRC) in 1940 got him interested in problems related to the war. He worked in England in 1941 studying the effects of poison gas and gas masks in combat, "learning the practical difficulties of bridging the gap between laboratory and production," he said.
According to his biography, published by the National Academy of Sciences (NAS), Noyes Jr. was named head of the NRDC Chemical Warfare & Smoke Division in 1942. "His duties required a good deal of travel in the U.S., Europe, and even Australia; when he was at home he worked six-and-a-half days per week, still had duties at Rochester, and remarkably, served as editor of Chemical Reviews.
"His memories, however, were less of the drudgery than of the politics and personalities of the time, and vivid recollections fill several chapters of his memoirs. During and after the war, he was active in the International Council of Scientific Unions [now the International Council for Science] and, especially, UNESCO"—the United Nations Educational, Scientific & Cultural Organization—according to his NAS biography.
Noyes Jr. was elected to NAS in 1943 and to the American Philosophical Society in 1947. In addition to the Priestley Medal in 1954, he received the Willard Gibbs Medal in 1957 and the ACS Charles Lathrop Parsons Award in 1976.—Linda Raber
More On This Topic
85th Anniversary of the Priestley Medal
C&EN celebrates the American Chemical Society's highest honor
The medals of the minister-scientist who discovered oxygen attest to his fame and infamy
View a complete list of award recipients
These 12 Priestley Medal winners reflect on winning ACS's most coveted award
Chemical & Engineering News

ISSN 0009-2347
Copyright © 2011 American Chemical Society
Login
Note
Our log-in process has changed. You need an ACS ID to access member-only content.
Adjust text size:
Articles By Topic
More On This Topic
85th Anniversary of the Priestley Medal
C&EN celebrates the American Chemical Society's highest honor
The medals of the minister-scientist who discovered oxygen attest to his fame and infamy
View a complete list of award recipients
These 12 Priestley Medal winners reflect on winning ACS's most coveted award