ACS News
C&EN Special Issue: 85th Anniversary Of The Priestley Medal - Volume 86, Number 14, April 7, 2008
1953: Sir Robert Robinson (1886–1975)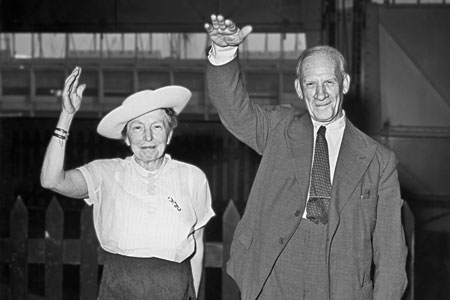 In 1953, the year a 67-year-old Sir Robert Robinson was awarded the Priestley Medal, the famed organic chemist was also celebrating another great accolade—his final year as president of the British Chess Federation. It should come as no surprise that Robinson, a master strategist when it came to constructing and deconstructing molecules, was also a master strategist when it came to more leisurely pursuits, such as crossword puzzles and chess.
In their biographical memoir of Robinson (Biogr. Mems. Fell. R. Soc. 1976, 22, 414), Sir Alexander R. Todd and Sir John W. Cornforth recalled that during his days at Oxford University, Robinson would warm up his intellect by tackling a crossword puzzle with his students. "Each afternoon around four o'clock, just as tea was being brewed in beakers, Robinson would appear in their laboratory for a united assault on the Times crossword followed often by a discussion on any chemical topic which was currently occupying his mind."
"At the chessboard he was a deep, imaginative, and observant player," Todd and Cornforth add. His power of abstract thought "made him independent of visual aids to play; after his sight failed, he continued to play postal chess of a quality astonishing for a man in his eighties." Two years before his death, Robinson even published a book on the subject, "The Art and Science of Chess," with Raymond Edwards.
Robinson had a reputation as the quintessential organic chemist. The curly arrows that chemists use to signify the movement of electrons were his invention. In 1947, he garnered the Nobel Prize in Chemistry "for his investigations on plant products of biological importance, especially the alkaloids."
As part of his Priestley Medal address, Robinson used his tactical prowess to offer organic chemists a strategy for moving forward in the second half of the 20th century. At a time when advances in spectroscopy were accelerating the pace of chemical research, Robinson said, "We are equipped as never before, and the question arises: What shall we do with our strength?"
Robinson, presciently it now seems, envisioned a future in which organic chemists would use their knowledge to decipher and mimic the workings of the natural world. Although famous for his synthesis of natural products, Robinson suggested that "it is to be hoped that the 'marathon' or 'relay' type of synthesis will gradually fall into desuetude in the highest quarters and will be replaced by the attempt to discover how the pieces fall naturally into place."
Biochemistry, Robinson said, is here to stay. "Its value is fully recognized, but it must nevertheless be insisted upon that all questions of the mechanism of reactions of carbon compounds, even in the living cell, are properly the concern of the organic chemist," he remarked.
"Above all we must avoid slipping into the position of technicians, hand-maidens to other groups of scientists," Robinson warned. "My faith is that the organic chemist, as such, will initiate and develop highly significant advances in biochemistry in the next half century. I do not think that these advances can be so quickly and surely made by men trained in other disciplines."—Bethany Halford
More On This Topic
85th Anniversary of the Priestley Medal
C&EN celebrates the American Chemical Society's highest honor
The medals of the minister-scientist who discovered oxygen attest to his fame and infamy
View a complete list of award recipients
These 12 Priestley Medal winners reflect on winning ACS's most coveted award
Chemical & Engineering News

ISSN 0009-2347
Copyright © 2011 American Chemical Society
Login
Note
Our log-in process has changed. You need an ACS ID to access member-only content.
Adjust text size:
Articles By Topic
More On This Topic
85th Anniversary of the Priestley Medal
C&EN celebrates the American Chemical Society's highest honor
The medals of the minister-scientist who discovered oxygen attest to his fame and infamy
View a complete list of award recipients
These 12 Priestley Medal winners reflect on winning ACS's most coveted award