Table of Contents
Volume 85, Number 5: January 29, 2007
Cover Story
Spurred by retailers, lawmakers, and the public, companies develop Earth friendly products. Firms face challenges with fragrance delivery.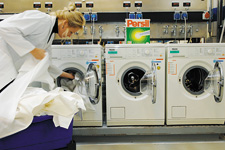 News of the Week
New CEO plans layoffs to create a leaner, more flexible company.
President wants more non-oil-based fuel, better vehicle efficiency.
Sex-specific use of UV light to seek out a mate is a first.
Fourth-quarter results for most companies show substantial growth.
Expansion at Waltham site bolsters the company's antibacterials program.
Bush directive makes it harder for agencies to issue rules.
Tiny silicon columns bend or straighten with changes in humidity.
Quick action on bill setting mandatory U.S. greenhouse gas reductions is goal.
Documentary airing on Feb.6 recounts life and career of pioneering African American chemist.
Business
To DuPont, titanium dioxide is becoming more than just white pigment.
Influential committee recommends broader range of patent protections for pharmaceuticals.
Government & Policy
Report recommends that the White House withdraw its federal risk assessment policy.
Science & Technology
New ways of thinking about bonding continue to emerge.
Personal-journal-style websites usher in a new age of chemical communication.
ACS News
Meetings
Preliminary Program: Listing of technical symposia, general meeting information, and more for Chicago, March 25-29.
Awards
Recipients are honored for contributions of major significance to chemistry.
Editor's Page
The Departments

Chemical & Engineering News Online Subscriber Content is only available to members of the American Chemical Society or to institutional subscribers.
Advertisements
Advertise Here
Adjust text size:
Articles By Topic
Recent Issues
Process Chemistry
Stem Cell Research
World Chemical Outlook