Back Issue
Volume 85, Number 23: June 4, 2007
Cover Story
Fluorescent imaging of single molecules in live cells uncovers details of gene expression, structural proteins, and molecular motors.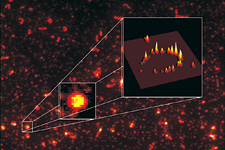 News of the Week
New method is first to catalytically convert allylic C-H directly to C-N, skipping conventional oxygen-requiring steps.
Former regulator is found guilty of taking bribes to allow drugs on the market.
Senate intelligence bill would mandate assessment of climate change's impact on national security.
Sustainable research collaborations were the goal of a meeting between U.S. and Brazilian stakeholders. (Blogged as it happened by C&EN and ES&T)
Chemistry professor Tobin Marks of Northwestern is among the eight laureates.
Simple route to determining protein structures uses only ease-to-obtain chemical shift data.
Label-free method probes hybridization and chirality of bound nucleotides.
Market challenges dim the confidence of the world's chemical CEOs.
Business
With disposable equipment, Drug and vaccine makers are seeing advantages in cost and time to market.
As a key product stumbles at Amgen, the focus turns to the company's pipeline.
Manufacturers claim loophole favors big oil companies, threatens tallow supply.
After two decades as execs, Dextra owners look forward to being scientists again.
Government & Policy
Academics say their labs should not be regulated under a new DHS rule.
Science & Technology
Researchers are tackling the grueling challenge of getting brain therapies across the blood-brain barrier.
Phil Baran is Spearheading Natural Products Synthesis Without Protecting Groups.
Carl Djerassi's Play Exposes Bias Among the Dueling Tribes of Science and the Humanities.
New and Notable in the Chemical Industry.
ACS News
An ACS national meeting takes about 10 years to plan, and one may be coming to a city near you.
Society, Board, Council and Other Committee Reports.
Awards
Editor's Page
The Departments

Chemical & Engineering News Online Subscriber Content is only available to members of the American Chemical Society or to institutional subscribers.
Advertisements
Advertise Here
Adjust text size:
Articles By Topic