Back Issue
Volume 86, Number 14: April 7, 2008
Cover Story
Priestley Medalist Gabor A. Somorjai has been advancing surface chemistry for nearly five decades. With Photo Gallery
Accepting The Medal In His Own Words With Photo Gallery
Cover: Mitch Jacoby/C&EN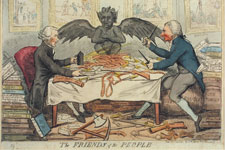 » Business
April 7, 2008
Sweet and savory uses for biotechnology inspire flavor start-ups.
With asset disposals coming to an end at the firm, CEO Clamadieu shops for deals.
Steady, profitable business of sulfuric acid regeneration boosts Rhodia's bottom line. Web Exclusive
In initial ruling, judge weighs in favor of patients' immediate interest.
» Government & Policy
April 7, 2008
Greater authority, more investigators top Bresland's wish list for chemical safety board.
States may have to step into breach while legal battle continues over EPA rule.
» more government & policy news...
» Science & Technology
April 7, 2008
The MacArthur Fellow talks about tackling science from all sides.

Recent Issues
Pittcon Returns To The 'Big Easy'

Chemical & Engineering News Online Subscriber Content is only available to members of the American Chemical Society or to institutional subscribers.
Advertisements
Advertise Here
Adjust text size:
Articles By Topic