Back Issue
Volume 86, Number 25: June 23, 2008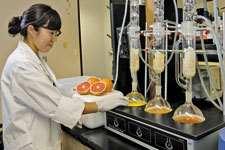 » Business
June 23, 2008
Cambridge Major is moving up to commercial-scale production of active pharmaceutical ingredients.
Novomer aims to turn carbon dioxide into something useful.
» Government & Policy
June 23, 2008
Shippers say federal plan to boost safety of hazmat rail transport needs more work.
Bill reauthorizes federal initiative to monitor and guide R&D in emerging area.
» more government & policy news...
» Science & Technology
June 23, 2008
Advances in imaging and elemental analysis move TEM toward the realm of analytical chemistry. With Videos
Blocking fatty acid assembly is a potential strategy against disease.
Self-assembled prisms may enclose empty spaces rather than solvent. With Video
Technology and Business news for the laboratory world.

Chemical & Engineering News Online Subscriber Content is only available to members of the American Chemical Society or to institutional subscribers.
Advertisements
Advertise Here
Adjust text size:
Articles By Topic