Quote of the Week
"If the U.S. abandons its role of leadership in science and technology, there are others who will gladly step into that role."
RALPH L. MCNUTT JR., SPACE SCIENTIST, JOHN HOPKINS APPLIED PHYSICS LAB – p. 47
In This Issue:
Highlights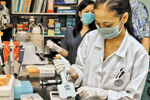 Drug companies and nonprofits are taking novel approaches to refill the pipeline of new drugs and vaccines for neglected diseases. (pp. 16-22)
News Analysis: Copenhagen meeting is unlikely to produce a new climate-change treaty. (pp. 37-39)
Twenty years after the fall of the Berlin Wall, chemists who lived in former East Germany reflect on science then and now. (pp. 42-46)
Table of Contents
Polypharmacology: Ligand-based approach finds new targets of known drugs.
Plant Security: Bleach maker will end shipment of hazardous chemical.
Safety: $87 million penalty for violations, failure to comply with 2005 settlement.
Legislation: Democrats push ahead as Republicans boycott markup meetings.
Novartis makes major R&D and vaccines investments in China.
Chemical Biology: Photosensitive reaction opens or shuts potassium's flow.
Planetary Science: New results from spacecraft flyby show iron-rich surface.
Fiscal First Half: Firms performed better than feared.
EPA will assess impacts of black carbon and drilling chemicals for hydraulic fracturing.
Photovoltaic prices will continue to drop, thanks to an oversupply of polysilicon.
Technology management program receives high marks, but not all are pleased.
A visionary in the fine chemicals industry claims a victory in a still-risky business.
Johnson & Johnson is restructuring to improve its operating efficiency through more simplified processes and fewer layers of management...
As the global economic recovery gets under way, DuPont CEO Ellen J. Kullman predicts that her firm will deliver 20% compound annual earnings growth...
Dow Corning has bought one silicon metal plant and acquired an interest in a second one from Globe Specialty Metals in a $175 million deal...
Merck KGaA is leading a new German consortium that aims to develop soluble materials to be used in large organic light-emitting diodes...
ExxonMobil Chemical's Japanese affiliate and Japan's Toray Industries are forming a 50-50 joint venture to develop and make separator films...
The German carbon fiber maker SGL is forming joint ventures with automaker BMW and chemical maker Mitsubishi Rayon to make carbon fiber, the fiber's precursor, and downstream fabric...
Mitsui Chemicals and Sinopec plan to spend about $660 million in China to build new plants and acquire an existing one...
In a move to advance its biotech drug pipeline, Eli Lilly & Co. opened a new biotechnology center in San Diego last week...
DSM has halted talks with North China Pharmaceutical Group about forming a vitamins and anti-infectives joint venture...
The pharmaceutical chemicals firm Carbogen Amcis plans to restructure its three Swiss facilities in response to a decline in customer products in the early phases of drug development...
Pharmaceutical chemical maker Archimica has sold its active pharmaceutical ingredient (API) plant in Isso, Italy, to the Italian firm Erredue...
Takeda Pharmaceutical is licensing two obesity drugs in development at Amylin Pharmaceuticals...
Merck & Co. completed its $41 billion acquisition of Schering-Plough last week...
Cambrios, Equinox Chemicals, Lubrizol, Nalco, Celanese, China's Ministry of Commerce, GlaxoSmithKline and Pfizer, Biovitrum, Lonza...
News Analysis: Copenhagen meeting is unlikely to produce a new climate-change treaty.
EPA is preparing to implement a final rule that will ban carbofuran residues on all foods sold...
Last week, the Department of Energy announced $155 million in industrial grants for 41 industrial energy-efficiency projects...
The biotechnology industry says a new study provides evidence of the importance of university and industry...
Studies done by federal agencies trying to pin down the causes and health impacts of reported sulfur emissions from drywall made in China...
A program announced on Nov. 3 by Secretary of State Hillary Rodham Clinton will deploy prominent scientists to bolster science...
» more government & policy news...
Twenty years after the fall of the Berlin Wall, chemists who lived in former East Germany reflect on science then and now.
Reluctance to restart production of plutonium-238 could mean the end of deep-space exploration.
New software and Websites for the Chemical Enterprise.
A German research team reports the first enzyme that can simultaneously bind both enantiomers of a ligand in its active site.
A link between metal cluster size, electronic properties of the cluster, and catalytic activity could help in designing better, less expensive catalysts.
A toxicology study sorts out how dibenzoylmethanes used to filter out UV-A light photodegrade into compounds that irritate the skin.
Cluster atoms in a carbon-scandium-fullerene complex, C2@Sc4@C80-Ih, fit inside one another like the famous Russian nesting dolls.
Fresh dental amalgam is mostly metal, but over time most of the filling surface converts into mercuric sulfide, with possible toxicity effects.
A "saloplastic" polymer electrolyte complex can be reversibly softened up and processed as a biomaterial by simply adding table salt.
Researchers at UCSF find nonnatural small molecules that directly activate enzyme precursors––no protein middleman required.
French chemists employ a ball-mill grinder to string together amino acids in the first reported solvent-free method for making a peptide bond.
» more science & technology news...
The Departments
Cardboard Scents, Splatter Science, Bear Break-Ins
This Week Online
Join C&EN on November 19, 11:00 a.m-12:00 noon (EST), for a live webinar on R-Group Virtual Screening: A New CADD Capability for Lead Optimization, covering technology that provides new ideas and rank order based on existing information. Participants will learn about 3D QSAR that automates the creation of models for predicting the biological activity or properties of compounds, exceptionally fast 3D virtual screening for R groups based on both shape and pharmacophore similarity, and combining these technologies to find novel R-groups predicted to have high potency, optimize multiple parameters, and get hundreds of new, highly promising R-group ideas.
Register Free at http://pubs.acs.org/cen/webinar/
Services & Tools
ACS Resources
ACS Careers
ACS is the leading employment source for recruiting scientific professionals. ACS Careers and C&EN Classifieds provide employers direct access to scientific talent both in print and online. Jobseekers | Employers
Join more than 161,000 professionals in the chemical sciences world-wide, as a member of the American Chemical Society.
» Join Now!
ACS
,
Analytical S

CEN

E
,
Business
,
Careers
,
Economy
,
Editor
,
Education
,
Employment
,
Environmental S

CEN

E
,
Letters
,
Government
,
Photo Galleries
,
Policy
,
Movies
,
Multimedia
,
Nanotechnology
,
Newscripts
,
Reel Science
,
Safety Letters
,
Science
,
Stem Cells
,
Stimulus Funds
,
Technology
,
Vaccines
,
Videos
,
What's That Stuff