Quote of the Week
"I was yelled at, given menial tasks in the department, and not allowed to teach senior chemistry courses."
AMBER F. CHARLEBOIS, FORMER WILLIAM PATERSON UNIVERSITY FACULTY MEMBER – p. 33
In This Issue:
Highlights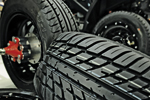 Chemical companies hope their innovations can improve the environmental performance of tires without sacrificing safety and durability. (pp. 10-14)
Supreme Court ruling will impact process patents in biomedicine and technology. (pp. 28-32)
Targeting early steps in protein disposal could lead to drugs for cancer and more. (pp. 41-43)
Table of Contents
Pharmaceuticals: Company to close six research sites and consolidate others as part of integration with Wyeth.
Safety: Legislation requires separate standards for academic labs, large commercial facilities.
Photochemistry: Ultrafast method reveals how green fluorescent protein changes during proton transfer.
Senate Hearing: Neither Finance Committee members nor experts agree on legislation's economic impact.
Universities adopt principles to ease developing world's access to discoveries.
Inorganic Chemistry: Mn-based chromophore points to more planet-friendly pigments.
ACS News: Societies agree to collaborate to promote chemistry's role in a sustainable world.
Chemical Biology: Stapled peptide thwarts Notch, a master cell regulator.
Obituary: Well-known corporate raider in the chemicals sector passes away after open heart surgery.
Chemical earnings are still weak, but quarter-over-quarter comparison is encouraging.
U.S. companies saw limited growth in third-quarter sales, while flu therapies boosted European results.
Accused by some of causing lung disease, diacetyl is the subject of widespread lawsuits.
General Electric plans to close its Newark, Del., solar module facility at the end of 2009 and lay off 82 employees...
Brazilian chemical giant Braskem and Mexican chemical firm Grupo Idesa won an auction of feedstock from Mexican state oil company Pemex that they will use for a new petrochemical complex in Mexico...
Philadelphia-based FMC has named Pierre Brondeau, 52, its new chief executive officer, effective at the beginning of next year...
The European Commission has imposed $260 million in fines against 10 chemical firms for fixing prices of tin and ester heat stabilizers between 1987 and 2000...
The Japanese companies Sekisui Chemical and Denka Kagaku are forming a joint venture for the water-soluble polymer polyvinyl alcohol (PVOH)...
Bristol-Myers Squibb and Alder Biopharmaceuticals will jointly develop and commercialize the monoclonal antibody ALD518, which has completed early Phase II clinical trials as a rheumatoid arthritis treatment...
Dow Chemical will sell its powder coatings business to paint maker AkzoNobel for an undisclosed sum...
Ford Motor will use a wheat-straw-re­inforced plastic in the third-row storage bins of the 2010 Ford Flex...
Adding to its polymerase chain reaction (PCR) technology offerings, Life Technologies will acquire BioTrove, a developer of high-throughput gene-expression and genotyping analysis systems...
Enzon Pharmaceuticals has agreed to sell its specialty pharmaceutical business to Italy's Sigma-tau Group for $300 million...
Bayer is boosting its sustainability efforts with the launch of eight projects focused on health care, nutrition, and climate change...
The Swiss contract manufacturer Lonza will manufacture Arzerra, a monoclonal antibody developed by GlaxoSmithKline and Genmab...
Mitsui Chemicals, Arkema, Wacker Chemie, BASF's fuel-cell business, Dow Chemical, Duke University, Ironwood Pharmaceuticals, Vertex Pharmaceuticals...
Supreme Court ruling will impact process patents in biomedicine and technology.
William Paterson University faces charges of gender harassment, discrimination in its chemistry department.
Symposium explores contributions of race, ethnicity, and gender to science's demographics.
Chemical Safety: Study of Chinese workers raises concerns about human exposure to controversial plastics chemical...
By 2011, EPA will limit emissions of hazardous air pollutants from polyvinyl chloride and copolymer production plants...
A circuit court judge in Oregon has ruled in favor of the Army in a dispute with a coalition of activists...
The Senate Homeland Security & Governmental Affairs Committee has approved legislation designed...
The International Energy Agency estimates $10.5 trillion in cumulative investments will be needed...
» more government & policy news...
Targeting early steps in protein disposal could lead to drugs for cancer and more.
Having the right tools is the key to understanding ubiquitination, or the tagging of proteins with ubiquitin that marks them for disposal.
A largely forgotten natural resource holds vast nuclear power potential.
Modifications for better control of redox potential and reactivity.
Two proteins form a transient complex in order to hand off copper on a cellular transport pathway
Our sun contains far less lithium than similar stars––because it has planets
Chemists use the power of light to control surface tension and drive liquid droplets across a liquid surface
Terminal olefins can be coupled to selectively produce the Z-alkene, thanks to novel metathesis catalysts
Antioxidants suppress a protein that initiates apoptosis in inner ear neurons, stopping hearing loss in mice
The first enantioselective synthesis of a complex terpene anticancer prospect begins with a psychoactive ingredient
Rewired bacterial photosynthetic machinery uses electrons supplied by ascorbate to reduce hydrogen ions in a bioreactor
Photoelectron spectroscopy firms up knowledge on the true nature of gold's bonding
» more science & technology news...
The Departments
Stealing Metal, Metal Allergy
This Week Online
Join C&EN on November 19, 11:00 a.m-12:00 noon (EST), for a live webinar on R-Group Virtual Screening: A New CADD Capability for Lead Optimization, covering technology that provides new ideas and rank order based on existing information. Participants will learn about 3D QSAR that automates the creation of models for predicting the biological activity or properties of compounds, exceptionally fast 3D virtual screening for R groups based on both shape and pharmacophore similarity, and combining these technologies to find novel R-groups predicted to have high potency, optimize multiple parameters, and get hundreds of new, highly promising R-group ideas.
Register Free at http://pubs.acs.org/cen/webinar/
Services & Tools
ACS Resources
ACS Careers
ACS is the leading employment source for recruiting scientific professionals. ACS Careers and C&EN Classifieds provide employers direct access to scientific talent both in print and online. Jobseekers | Employers
Join more than 161,000 professionals in the chemical sciences world-wide, as a member of the American Chemical Society.
» Join Now!
ACS
,
Analytical S

CEN

E
,
Business
,
Careers
,
Economy
,
Editor
,
Education
,
Employment
,
Environmental S

CEN

E
,
Letters
,
Government
,
Photo Galleries
,
Policy
,
Movies
,
Multimedia
,
Nanotechnology
,
Newscripts
,
Reel Science
,
Safety Letters
,
Science
,
Stem Cells
,
Stimulus Funds
,
Technology
,
Vaccines
,
Videos
,
What's That Stuff