Quote of the Week
"Shame on us, if in this new energy revolution we are not creating jobs here in America, shame on us if we let these jobs go overseas."
SEN. DEBBIE STABENOW, (D-MICH.) – p. 31
In This Issue:
Highlights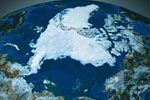 Believers, deniers, and doubters view the scientific forecast from different angles. (pp. 11-21)
Although one of the worst years in memory for the chemical industry, 2009 had a few bright spots. (pp. 24-29)
A dozen stories reprise chemists' major achievements of 2009. (pp. 35-39)
Table of Contents
Climate Change: Negotiators sweat the details as clock ticks down.
Technology Transfer: Some $350 million set aside to encourage renewable energy deployment in developing world.
Climate Change: UN climate panel head says committee reports are valid.
Catalysis: Aziridine ring opening discriminates between enantiomers.
Protein Analysis: Microarray performance is degraded with newer glass slides.
Bankruptcy: LyondellBasell and Tronox work with creditors while possible buyers look on.
Toxic Substances: National biomonitoring report provides assessment of exposure to 212 substances.
Chemical Biology: Conformational change proceeds along surprising path.
Climate Change: Satellite data show water vapor increases CO2 warming.
Although one of the worst years in memory for the chemical industry, 2009 had a few bright spots.
Two firms are taking steps to add new materials to the renewable polymers lexicon...
Evonik Industries says it will transition itself into an all-chemical company by spinning off its energy and real estate holdings...
Mitsubishi Rayon says it has suspended a 90,000-metric-ton-per-year methyl methacrylate expansion in Thailand because of regulatory uncertainties...
Flavor and fragrance maker Sensient Technologies has opened new operations in China and Costa Rica to develop products for local markets...
Lanxess has sold its 55% stake in a hydrazine hydrate plant in Weifang Industry Park, in Shandong province, China, to its partner, Weifang Yaxing Group...
Austria-based cellulosic fiber maker Lenzing plans to spend $175 million next year to increase production at its European and Asian sites...
Specialty chemical firm Ashland will sell Hercules Specialty Resins to Canadian private equity firm TorQuest Partners for $75 million...
Solvay has launched a tender offer worth roughly $110 million for the 50% of Vinythai that it doesn't already own...
Cubist Pharmaceuticals has agreed to acquire privately held Calixa Therapeutics for $92.5 million in cash plus potential payments of up to $310 million...
Merck & Co. has agreed to acquire Avecia's biologics business for an undisclosed sum...
Amgen and Array BioPharma will jointly develop Array's portfolio of glucokinase activators, including ARRY-403...
Millennium, the cancer drug arm of Takeda Pharmaceuticals, will pay Seattle Genetics $60 million up front for access to brentuximab vedotin...
Electricity generator Wind Direct has installed two wind turbines at Solutia's Newport, Wales, site...
RTI International Metals, Huntsman Corp. and Saudi Arabia's Zamil Group, Sumitomo Chemical, Chemtura, Borealis, Abbott Laboratories, Unitaid, Lonza, ChemGenex Pharmaceuticals...
National Chemistry Week's celebration of the elements gets kids thinking outside the box.
Author outlines the pitfalls of doing business with Chinese manufacturers.
Senate considers some dozen bills with a strong tie between jobs and energy.
Congress sets agencies up with research funds, struggles with other matters.
EPA issued two final rules last week that will restrict the availability and use of hydrochlorofluorocarbons...
Modernization of the Toxic Substances Control Act (TSCA), climate change, and rail competition are among...
A report by the National Research Council finds that subsidies of "tens to hundreds of billions of dollars" will be...
To gather input on policies concerning access to the results of publicly funded research...
Congress has approved a $447 billion omnibus spending bill (H.R. 3288), which lumps together six of the seven...
» more government & policy news...
A dozen stories reprise chemists' major achievements of 2009.
New and notable in the chemical industry.
Materials scientists have developed a peptide-coated nanoparticle that aids clotting to stop bleeding
With the help of a few 19F labels, spectroscopists improve method to study proteins inside live bacteria
The strange mammal's venom could help clarify details on evolution and possibly lead to novel medicines
Electrostatic repulsion between peptide-alkyl chain fibers in dilute solution leads to 3-D ordering
Chemists report the synthesis and structure of the first known natural product to contain multiple arsenic atoms
Mimicking biomolecular machines, chemists develop a synthetic small molecule that walks, foot over foot, down a molecular track
New microscopy technique generates a snapshot of a light field created around a nanostructure
Arrays of tiny antibody-functionalized silicon rings could streamline detection of protein biomarkers
» more science & technology news...
The Departments
A Chemical Christmas Tree, 40 Years of Cheery Christmases
Services & Tools
ACS Resources
ACS Careers
ACS is the leading employment source for recruiting scientific professionals. ACS Careers and C&EN Classifieds provide employers direct access to scientific talent both in print and online. Jobseekers | Employers
Join more than 161,000 professionals in the chemical sciences world-wide, as a member of the American Chemical Society.
» Join Now!
ACS
,
Analytical S

CEN

E
,
Business
,
Careers
,
Economy
,
Editor
,
Education
,
Employment
,
Environmental S

CEN

E
,
Letters
,
Government
,
Photo Galleries
,
Policy
,
Movies
,
Multimedia
,
Nanotechnology
,
Newscripts
,
Reel Science
,
Safety Letters
,
Science
,
Stem Cells
,
Stimulus Funds
,
Technology
,
Vaccines
,
Videos
,
What's That Stuff