C&EN Special Issue – CAS Celebrates 100 Years
June 11, 2007

Volume 85, Number 24
Web Exclusive
Meaningful, Long-Lasting Friendships
Cathy Hanning, Human Resources Manager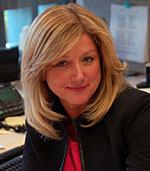 My last job before coming to CAS was at a telecommunications company. I decided to join CAS because of its strong reputation in the community and its organizational success. What I've come to respect the most about CAS and its staff is their genuine pride in the work they do for the field of chemistry and to support CAS???s mission. CAS employees are interested in their contributions to our products and the impact of those products on customers. The staff demonstrate a high level of expertise and quality in their work. I've often seen them talking about chemistry, the databases, and other products.
Many staff members have developed lasting friendships with their CAS colleagues. I appreciate the community spirit and personal interest that they have in one another. It's an environment that encourages people to stay connected. Retirees return for CAS events and to maintain their relationships with colleagues and friends.
Hanning received a bachelor's degree in business administration in 1986. She has worked as a human resources manager for 10 years.
View other profiles
Translating Is Easier Said Than Done
Computers Made It Possible
Abstracting's Unique Payoff
Meaningful, Long-Lasting Friendships
John Manley,
Senior Financial Adviser, Cost Accounting
At CAS, A Value-Added Career
W. Val Metanomski,
Senior Scientific Information Specialist, Database Operations Department
Happy Historian
Vicki Nichols,
Department Manager, Editorial Systems
Having Fun On The Job
Abstracting For Lunch Money
Chiori Shimizu,
Assistant Scientific Document Analyst, Editorial Operations
Loyal Employer, Loyal Employee
Divya J. Soares-Khilnani,
Scientific Information Analyst, Department of Molecular Biology & Genetics
Success Is In CAS's DNA
A Career Built On Opportunity
Not As Easy As It Looks
Barbara Vieira,
Senior Product Development Manager, New Product Development
The Human Side Of Chemistry
Shan Wei,
International Customer Service Representative
Thinking Globally At CAS
People Who Come To CAS Rarely Leave
Challenges And Opportunities, Always
Kris Woods,
Manager, Data Center Operations
The Only Constant Is Change
Christian Zeidner,
Projects Manager, Online Services Development
Technological Legacy Of Success
CAS Special Issue
Adjust text size:
Articles By Topic