C&EN Special Issue – CAS Celebrates 100 Years
June 11, 2007

Volume 85, Number 24
Web Exclusive
Database Operations Department
Happy Historian
W. Val Metanomski, Senior Scientific Information Specialist
What I value most is my long (some 56 years) association with Chemical Abstracts, first as a user, then as a contributor, and finally as a full-time employee.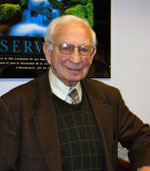 While in graduate school, I signed up as a volunteer abstractor and compiled a number of Chemical Abstracts for six years. Finally, in 1964, in response to an advertisement from CAS seeking full-time editors, I applied and was hired. I have been at CAS ever since, working full-time for over 43 years.
While this is not a record of the longest CAS employment (which at the moment is 47 years), I am most likely now the oldest full-time employee with respect to age. I am also most likely the only remaining WWII veteran.
My overall satisfaction with my tenure at CAS is the result of an old adage: I was at the right place at the right time. I was privileged to take part in a transition from a completely manual operation, which was epitomized by the use of thousands upon thousands of 3-by-5-inch index cards, through various transitions, to the current highly sophisticated computer-supported operation, symbolized, in turn, by interactive computer terminals on every desk at CAS and by the computer-driven production, storage, and delivery of recorded chemical information.
I have enjoyed my unofficial job as the "CAS historian," although I have not been appointed to be one, nor was there ever any such position. I just love history, and over the years, I have managed to collect a lot of memorabilia, including some complete sets of special CAS publications. My memory is good enough that I can answer many questions about CAS history as to who did what and what happened when.
One nostalgic reflection is that when CAS was a small organization, everybody knew everybody, from the office boy to the CAS director and editor. Now, with the organization so large and, out of necessity, with so many managerial levels, this is no longer possible. A sad reflection occurs every time the eligible employees are presented with a 25-year award. I discover that I do not know a number of them, since now we work in three buildings, and the number of specialized functions have mushroomed to such an extent that now I have no need to ever interact with most of the other staff.
Metanomski started with CAS as a volunteer abstractor. He received a bachelor???s degree in chemical engineering from the University of London in 1952 and master???s (1960) and Ph.D. (1964) degrees, also in chemical engineering, from the University of Toronto, before joining the CAS staff full-time in 1964.
View other profiles
Translating Is Easier Said Than Done
Computers Made It Possible
Abstracting's Unique Payoff
Meaningful, Long-Lasting Friendships
John Manley,
Senior Financial Adviser, Cost Accounting
At CAS, A Value-Added Career
W. Val Metanomski,
Senior Scientific Information Specialist, Database Operations Department
Happy Historian
Vicki Nichols,
Department Manager, Editorial Systems
Having Fun On The Job
Abstracting For Lunch Money
Chiori Shimizu,
Assistant Scientific Document Analyst, Editorial Operations
Loyal Employer, Loyal Employee
Divya J. Soares-Khilnani,
Scientific Information Analyst, Department of Molecular Biology & Genetics
Success Is In CAS's DNA
A Career Built On Opportunity
Not As Easy As It Looks
Barbara Vieira,
Senior Product Development Manager, New Product Development
The Human Side Of Chemistry
Shan Wei,
International Customer Service Representative
Thinking Globally At CAS
People Who Come To CAS Rarely Leave
Challenges And Opportunities, Always
Kris Woods,
Manager, Data Center Operations
The Only Constant Is Change
Christian Zeidner,
Projects Manager, Online Services Development
Technological Legacy Of Success
CAS Special Issue
Adjust text size:
Articles By Topic