ACS News
C&EN Special Issue: 85th Anniversary Of The Priestley Medal - Volume 86, Number 14, April 7, 2008
1944: James Bryant Conant (1893–1978)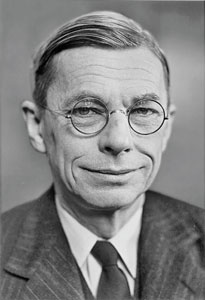 During his introduction of Priestley Medal Award recipient James Bryant Conant in 1944, American Chemical Society President Thomas Midgley Jr. said, "His influence upon chemistry in this country has been profound, and it can truly be said that our medalist's name will always be remembered by posterity for his many contributions to the success of American chemistry." Conant modestly accepted the award "on behalf of the chemists of the United States who have contributed so greatly to the winning of the war" (C&EN, Oct. 10, 1944, page 1642).
When Conant accepted the award at the ACS national meeting in September 1944, World War II was nearly a year away from ending. Aside from being one of the leading scientific advisers to the U.S. during World War II, Conant exerted a profound influence on chemistry, education, and diplomacy throughout his career. His 1970 autobiography was appropriately titled "My Several Lives."
Conant received both his bachelor's degree in chemistry, magna cum laude, in 1913 and his Ph.D. in 1916 from Harvard University. In 1916, he was appointed a chemistry instructor at Harvard, but left during World War I to join the Chemical Warfare Service, where he studied mustard gas and led the development and production of a more toxic gas, Lewisite. By the end of the war, he was promoted to major.
Conant returned to Harvard in 1919 to resume his academic career, and he became a prolific researcher in organic chemistry. His research on the chemistry of chlorophyll, for which he won the William H. Nichols Award in 1932, and on the nature of hemoglobin, for which the American Institute of Chemists awarded him a medal in 1934, rank high among his many notable scientific achievements.
In 1933, Conant was appointed president of Harvard University, a position he held until 1953. In his presidential acceptance speech, as reported in the Harvard Alumni Bulletin, Conant pledged his "entire strength and devotion to the leadership of this community of scholars and students." Conant would prove to be an innovative administrator. In an effort to improve faculty quality, he implemented an "up or out" rule—an assistant professor who was not promoted at the end of his term was terminated as a faculty member. He established university professorships to recognize and retain exceptional scholars and Harvard National Scholarships, merit-based awards to reduce the financial and geographic barriers to attending Harvard.
Conant was also an early advocate of standardized testing, initially as a way to evaluate the academic promise of scholarship students. He later played a major role in the expansion of the Educational Testing Service and served as its first chairman of the board in 1948.
When Agnes Wahl Nieman bequeathed a $1 million gift to Harvard in memory of her late husband, publisher Lucius W. Nieman, she specified that the earnings from the gift were to be used "to promote and elevate the standards of journalism in the United States." After consulting colleagues and journalists on how to satisfy the bequest, Conant decided to use the money to establish the Nieman Fellowships, which would give newspaper reporters the chance to study at Harvard for one year. Seventy years after the first class of fellows in 1938, more than 1,200 journalists have come through the program.
When World War II seemed imminent, Conant became involved with the National Defense Research Committee (NDRC), which mobilized civilian scientists and engineers for the war effort and granted government-funded contracts to academic and industrial laboratories. In 1941, Conant became chair of NDRC, which contributed to the development of the atomic bomb. After the war ended, Conant was invited by President Harry S. Truman to chair the newly established Atomic Energy Commission, which he declined, although he did serve as chairman of the National Science Board.
During President Dwight D. Eisenhower's first term, Conant was asked in 1953 to serve as U.S. high commissioner to Germany during its reconstruction, which he did following his resignation from Harvard. When a treaty establishing the Federal Republic of Germany was ratified, Conant's appointment as U.S. ambassador was confirmed.
Conant resigned his ambassadorship in 1957 to conduct an in-depth study of U.S. high schools for the Carnegie Corp. Out of that study, he published "The American High School Today" in 1959, followed by "Slums and Suburbs" (1961), "The Education of American Teachers" (1963), and "The Comprehensive High School" (1967).—Corinne Marasco
More On This Topic
85th Anniversary of the Priestley Medal
C&EN celebrates the American Chemical Society's highest honor
The medals of the minister-scientist who discovered oxygen attest to his fame and infamy
View a complete list of award recipients
These 12 Priestley Medal winners reflect on winning ACS's most coveted award
Chemical & Engineering News

ISSN 0009-2347
Copyright © 2011 American Chemical Society
Login
Note
Our log-in process has changed. You need an ACS ID to access member-only content.
Adjust text size:
Articles By Topic
More On This Topic
85th Anniversary of the Priestley Medal
C&EN celebrates the American Chemical Society's highest honor
The medals of the minister-scientist who discovered oxygen attest to his fame and infamy
View a complete list of award recipients
These 12 Priestley Medal winners reflect on winning ACS's most coveted award