Newscripts
April 23, 2007

Volume 85, Number 17
p. 72
Earth Day Everyday
Yesterday was Earth Day, but Newscripts gathered a few environment-inspired tidbits that can also be kept in mind during the rest of the year.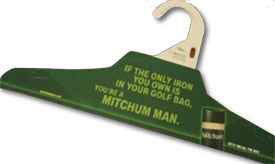 Sarah Everts/C&EN
Let's start with the ECOHANGER. More than 3.5 billion wire clothes hangers are discarded annually in the U.S. alone. That's about 195 million lb of steel (the equivalent of 60,000 cars) that gets dumped into landfills each year, not to mention all the water and energy it took to process that steel into those useful clothes organizers.
The EcoHanger is made of 100% recycled and recyclable paper that holds up to the wear-and-tear of closet life for about two months. Oh, and the hangers are decorated with advertising that pays for the hanger itself.
"The key by-product of this advertising vehicle is that it is also critically important to our environment," says Bob Kantor, chief executive officer of Hanger Network, the producer of EcoHangers, in a statement. The hangers have been "supplied almost free of charge to registered dry cleaners" nationally for the past year, according to the company's website.
But there's more enviro-goodness! EcoHangers are made in U.S. plants and adhere to Environmental Protection Agency carbon emission and wastewater discharge standards, according to Hanger Network. Perhaps the popularity of this product will hang on for years to come.
ISTOCKPHOTO
And now, some healthy news about indoor air quality. Sorry tobacco smokers, but global momentum for going SMOKE FREE is picking up, according to a recent perspective article published in the New England Journal of Medicine by researchers at the Harvard University School of Public Health and the Association of European Cancer Leagues.
"In short, the world has begun to reclaim clean air as the social norm," the authors write. They pinpoint Ireland's pioneering indoor smoking ban in 2004 as the weighty action that tipped the public health scales worldwide.
Susan Morrissey/C&EN
Environment: Keeping government green and air clean.
Numerous countries on several continents have followed suit. Currently, 17 U.S. states and most of Australia and Canada have smoke-free laws for public places. Score one (at last) for mounting scientific evidence about public health.
Finally, Washington, D.C., is familiar with colors like red, white, and blue, but the talk is getting "greener" these days. Some government buildings have already taken the plunge, and the behemoth U.S. CAPITOL and surrounding buildings will become more all-around environmentally friendly this year.
We're talking about more than just new compact fluorescent light bulbs for the millions of square feet involved. Last month, House Speaker Nancy Pelosi (D-Calif.) directed the House chief administrative officer to figure out how to "Green the Capitol," a plan which would include up-to-date industry standards, such as the Leadership in Energy & Environmental Design benchmarks, for green building and operating procedures.
The House Committee on Science & Technology got in on the discussion earlier this year. The main offices for the House Committee on Science & Technology are set to undergo renovations later this year, according to committee spokeswoman Alisha Prather.
The chief administrative officer is expected to have a preliminary report ready by the end of this month and a final report by June 30. No word on whether plans will include covering the Capitol's signature dome with solar panels, installing Mister Miser very low flow urinals in the bathrooms, or turning the National Mall into a tree farm in an attempt to offset emissions.
This week's column was written by Rachel Petkewich. Please send comments and suggestions to newscripts@acs.org.
Adjust text size:
Articles By Topic